Master of Public Health Program Testimonials
Oluwatoyin Olumolade
"I want to thank you for the knowledge you have given me. I really appreciate your dedication to the MPH program and its students. Without your leadership and mentorship, I don't think I would be prepared to take on the duties and responsibilities my job will entail. Thank you to Dr. Jahanfar and Dr. Snyder for their research advisement and mentorship. You have sparked an interest in research in me, and I plan on continuing my education. I hope in the future to impact a student the way you have impacted me. Thank you again for all you have done for me."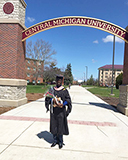 Jonas Ndeke
"I was offered and accepted a Community Epidemiologist position at the Ingham County Health Department. Landing such a well-established job, just one month after my graduation from the CMU MPH program, is such great news and pride for me. I cannot be too grateful for what the Program brought to my professional potential and preparedness. So, thank you!"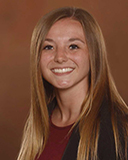 Taylor Colotti
"I was accepted into the University of Utah to pursue my Ph.D. in Health Education. Due to the experience I gained throughout my time in the MPH program, I was offered a research assistant position within my specialization. To say I am grateful is an understatement!"
Janae Alexander
"Thank you professors of Central Michigan University for being the catalyst of great things to come. Thank you Central Michigan University for providing the medium for learning. Fire Up Chips!"