Sport Management Program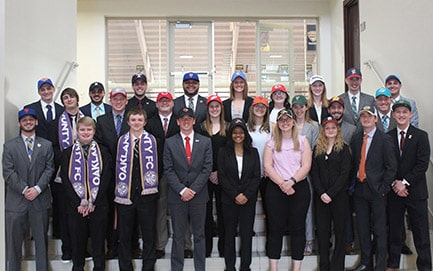 Career options include high school, collegiate, amateur, and professional sport management, sport business management, coaching, or employment with non-profit sport agencies. Coordinated major/minor programs are available on an interdepartmental basis to broaden the employment opportunities in sport retail, merchandising, journalism, broadcasting, or exercise science. Such coordinated programs require early advisement. Students who desire to pursue one of the career opportunities should contact the department of physical education and sport for early advisement.
Tips From Chips - Nathan Kopp
Tips from Chips will feature stories and lessons from leaders in the sports industry. Whether you're an industry veteran, college student, or someone who just loves sports, subscribe/follow to hear inspiring content from those who put on some of the most exciting events in the world. The origins of this podcast began as a few Central Michigan University (Chippewas, aka Chips) alumni who were banned together in April 2020 to help each other through the COVID-19 pandemic. What started as a bi-weekly Zoom call, grew to a 160+ person group for best practices, and is now a weekly podcast.

Central Michigan University was awarded accreditation by the Commission on Sport Management Accreditation (COSMA) in February 2015.
The sport management degree program at Central Michigan University has received specialized accreditation through the Commission on Sport Management Education (COSMA) located in Arlington, Virginia, USA. The sport management programs in the following degrees are accredited by COSMA:
Bachelor of Science in Sport Management
Bachelor of Arts in Sport Management
Bachelor of Applied Arts in Sport Management
Master of Arts in Sport Administration