Program Overview
This program is perfect for anyone who dreams of a sports career off the field. You'll learn the business of sports — from ticket sales and event coordination, to working as an agent or in the front office of your favorite team.
Why This Program & What You'll Learn
Do you want to work in high school, collegiate, or professional sports? Want to promote and engage fans of a sports team or run the show from the front office? Wherever you want to be in the sports world, our program gives you the tools to succeed in the industry. This program, accredited by the Commission on Sport Management Accreditation (COSMA), provides a well-rounded knowledge base and includes courses on fitness, economics, marketing, business and history.
You can choose sport management as your major or as a minor, depending on your interests and career goals.
Central Michigan University was awarded accreditation by the Commission on Sport Management Accreditation (COSMA), February 2015.
Accelerated Master's Degree
Undergraduate students majoring in sport management may pursue a Master of Arts in Sport Administration (MA) degree during the final year of their bachelor's degree program. The Accelerated MA in Sport Administration allows students to reduce the total number of credits required to complete the combined undergraduate and master's degrees by applying 3 credit hours of program requirements towards both degrees. Thus, with advising and planning, it is possible for students to complete both degree requirements in 5 years.
Program Highlights
In the sport management program you'll:
Learn the business side of sports.
Secure exciting and meaningful internships; previous students have interned for the Miami Dolphins, NASCAR, the Detroit Red Wings, Pistons, and Tigers, and the PGA.
Have the opportunity to network and engage with industry professionals from around the country as part of our Sport Management Association. The organization holds an annual conference each fall.
Careers & Outcomes
Our sport management graduates work for teams in all four major sports leagues and dozens of colleges and universities. They also work for organizations like the United States Olympic Committee, USA Track & Field, the PGA Tour, and many more. A sport management degree prepares you for many exciting career paths.
| Career | Projected Salary |
| --- | --- |
| Sales Representative | $62,890 |
| Event Planner | $49,470 |
| School Athletic Director | $58,906 |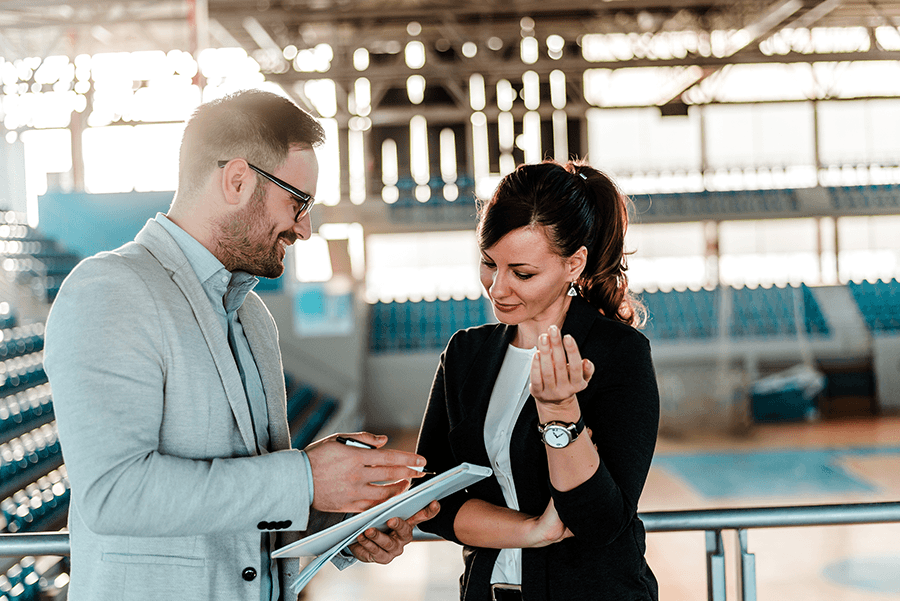 Super Bowl ties 2 recent CMU grads
Taylor Dawson '19 works as a fan experience intern for the Kansas City Chiefs and Logan Novak '19 is a membership development associate for the host stadium's team, the Miami Dolphins.