RN-to-BSN Program
Online RN-to-BSN Degree Program

We're proud to offer an RN-to-BSN program to Registered Nurses. The program is designed for working nurses to complete their BSN in less than 12 months. The RN-to-BSN program is aligned with the American Association of Colleges of Nursing Essentials for Baccalaureate Professional Nursing Practice and the national Quality and Safety Education for Nurses' Competencies.
Nursing is a dynamic health care profession characterized by rapid and continuous change. In order to maximize your career opportunities as well as have the educational foundation for career advancement, a Bachelor of Science in Nursing degree is needed. Central Michigan University can help you get there quickly and efficiently.
Get your BSN degree from a University where students, faculty, staff, and alumni learn to pursue excellence, live with compassion and be leaders.
To earn the Bachelor of Science in Nursing degree, CMU students must satisfy both the nursing major curriculum and the CMU general education program requirements. The nursing degree requires 120 semester credit hours, up to 90 hours can be transferred to this program. Review the transfer guides and articulation agreements from the Community College or University you attended to see how your credits will transfer to CMU.
Your advisor will help determine if you need to take any courses at CMU beyond the 30 credit hours of the nursing major.
RN-to-BSN Program Student Learning Outcomes

By the end of the BSN Completion Program, the graduate will:
Integrate knowledge from the liberal arts, sciences, and nursing courses to provide culturally competent nursing care for diverse populations.

Demonstrate nursing leadership principles to plan and implement patient safety and quality improvement initiatives within the context of a dynamic complex health care system and interprofessional care.

Apply concepts of global health to plan appropriate culturally safe care and health promotion for vulnerable populations.

Utilize best current evidence and systems thinking to improve nursing and health care practices for groups or populations.

Incorporate concepts of interprofessional collaborations and communication, health policy, finance, and regulatory environments as leaders in nursing practice.

Admission Requirements

Apply
Submit an online application

.

Pay an application fee.

Submit official transcripts from previous colleges or universities to:


Email transcripts@cmich.edu

or



CMU Global Campus, Attn: Transcript Department, 802 Industrial Drive, Mount Pleasant, MI 48858

Requirements

Registered Nurse (RN) - An active, unencumbered RN license within your state of residence. Note: Applicants without a registered nurse license may apply to the program, receive provisional admission and take up to 12 credits while preparing for the NCLEX-RN examination. Contact the program director for

additional information.



A GPA of 2.5 or higher.
Application Submission Deadline: CMU admits students into this program twice a year in the spring and fall semesters. Students may apply to the program at any time during the last semester of the Associate degree or diploma program or after completing the program.
Transfer Guides and Articulation Agreements

Review the transfer guides and articulation agreements from the Community College or University you attended to see how your credits will transfer to CMU.
Tuition & Fees

Current tuition & fees for the current year.
Tuition Deferred Billing Program

For a student who receives tuition assistance or reimbursement from their employer, deferred billing is a great option.
The Deferred Billing Program allows the student additional time to turn-in payment. Typically, it's about 30 days after the course ends. The student who wishes to defer billing is required to turn in the application, employer's reimbursement policy, and verification of employment. Once approved and all documents have been received, the student will receive an approval form that lists the courses and all tuition and fees. This form lists the due date per course so that they are aware of when each course is due and how much is due on that date. This form is required before the student can place a dunning lock to prevent late fees until the listed due date.
The Deferred Billing Program is a manual process that is closely monitored by the Financial Operations department. If the student fails to submit all forms, then their account is not locked and the student will get late fees. If the student fails to submit payment by the date listed on the form, they risk being dropped from the courses in the next semester. All tuition must be current, no late fees or past due holds allowed, in order to be approved for the next semester.
For more information regarding deferred billing, please contact Stephanie Fox, Senior Specialist Clerk Financial operations at 989-774-3618 or by email zerba1sp@cmich.edu.
Request for Deferred Billing Form
Accreditation:

Central Michigan University is accredited by the:
Higher Learning Commission Member of the North Central Association
230 S. LaSalle St.
Suite 7-500
Chicago, IL 60604
312-263-0456
The RN-to-BSN Program is Accredited by the Commission on Collegiate Nursing Education (CCNE).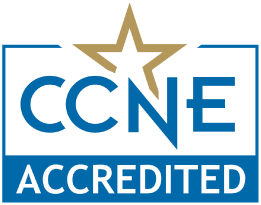 RN-to-BSN Advising Sessions

Contact Stacey Evoy at 989-774-1850 or via email evoy1s@cmich.edu for more information.
Kechi Iheduru-Anderson, DNP, RN, CNE, CWCN
Director of Nursing
Health Professions Building 1215
Mount Pleasant, MI 48859
989-774-2637
Email ihedu1k@cmich.edu