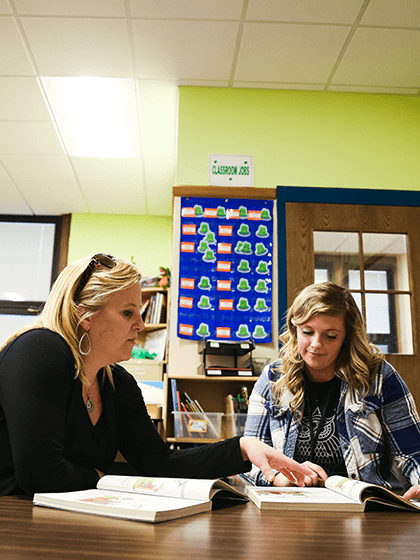 Center for Clinical Experiences
We prepare you to be classroom-ready. Under our guidance, you'll have multiple field experiences beginning with observing a variety of grade levels to working directly with students in a classroom setting as well as instructional planning with a mentor teacher.
Mission Statement
To provide students with opportunities for diverse and high-quality experiences through professional readiness, pedagogy, practice, and partnerships.

The Four Core Pillars of CCE
The work of the staff of the Center for Clinical Experiences revolves around four core pillars of service.
Professional Readiness & Development
The staff of CCE provide teacher candidates with opportunities to develop skills and dispositions required of educators to be successful colleagues and increase marketability.
Pedagogy
Growing pedagogical skills takes time, reflection, and coaching. The staff of CCE support teacher candidates during their apprenticeship and internship experiences in developing key pedagogies, through both on-site and virtual mentorship.

Practice
Classroom experiences provide teacher candidates a forum for increased and improved practices that benefit children. CCE Staff collaborates with EPP faculty to provide rich classroom experiences for candidates to practice their growing craft through observation, lesson designing, and instructional delivery.

Partnerships
The Center for Clinical Experiences embraces partnerships with districts in Michigan and beyond to provide opportunities for teacher candidates to grow as classroom practitioners under the mentorship of skilled educators.

Meet the Staff:
The staff of the Center for Clinical Experiences provides teacher candidates support, resources, and guidance as you develop your professional skillsets through a variety of experiential learning opportunities.
Dr. Jillian Davidson: Director of Clinical Experiences
Mindy Keck: Senior Coordinator of Clinical Experiences
Amanda Buzard: Coordinator of Clinical Experiences
MarKeta Jackson: Executive Office Specialist
Christy Siler: Senior Office Specialist