Outdoor Environmental Recreation
If you love the outdoors and educating others, you'll love this
Our program is where learning takes you to the great outdoors, preparing you to give others the road map to understanding our natural world. Combine your passions for outdoor, wilderness and environmental education in this program, and we'll prepare you for a career in a variety of settings, such as nature centers, national parks and adventure camps.
If you love the outdoors, feel connected to the environment, and enjoy educating people, you can turn that passion into a career in outdoor recreation. Our outdoor and environmental recreation students combine class and practical application in the field to prepare for careers in parks, protected areas, camps, and outdoor or environmental education programs — including at national parks or adventure programs. A minor and a required internship provide supplemental skills and practice in programming, leadership, and administration.
Chris Stark - Interlochen State Park
Careers in outdoor and environmental recreation
Our graduates of this program have the unique opportunity to work with people while also protecting and conserving the natural environment. Here are some examples of actual positions our alumni have landed
National Parks Interpreter – Bering Land Bridge Natural Preserve, Alaska.
Conservation Officer – Michigan Department of Natural Resources, Michigan.
State Park Ranger – Bear Lake State Park, Utah.
Archery Department Manager - Cabela's, Texas.
Camp Director - Mystic Lake YMCA Camp, Michigan.
U.S. Forest Service Ranger – Manistee National Forest, Michigan.
Where our students are doing internships right now
As a student, you'll complete 15 or 30-week internships as a capstone experience to your academic career. This experience is the most extensive of any program in the United States. Internships take place all over the country and provide extremely valuable opportunities to gain professional skills and build networks of professional contacts.
Glacier National Park, Montana
U.S. Forest Service – Mio Ranger District, Michigan
Farmington Hills Nature Center, Michigan.
Vega State Park, Colorado
North Lakeland Discovery Center, Wisconsin
Daniel Boone National Forest, Kentucky
Faculty Advisors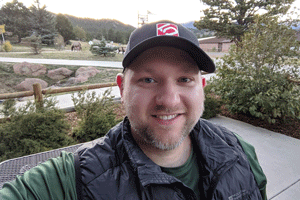 "My passion is getting people off of their screens and to be present. That is exactly what I get to do with my double major from CMU!"