Fall Professional Development Series
The Literacy Center's Fall Professional Development Series sponsored in memory of Kathy Blahunka will focus on early literacy and successful practices supporting early literacy learners. A "Book Club" approach will be used, allowing educators the flexibility and time to learn, practice, and collaborate with other educators across the state.
This Fall, the new books "A Teacher's Guide to Interactive Writing" by Matt Halpern and "A Teacher's Guide to Mentor Text grades K-5" by Carl Anderson will be used. All participants will receive a free copy of these texts and up to 5 SCECH hours for attending all five sessions.
.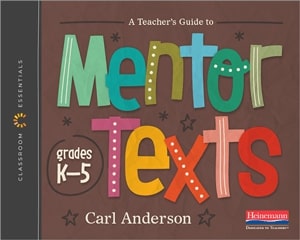 Participants will receive up to 6 State Continuing Education Clock Hours (SCECHs).
October 18
October 25
November 1
November 8
December 6
December 13
All sessions will be delivered from 7-8:00 p.m. in a virtual format via Zoom for ease of participation.
The professional development text, SCECH fees, and other costs for the Fall Professional Development Series are generously sponsored by the Family and Friends of Kathy Blahunka, CMU alumni- First Grade Teacher- and Beloved Individual. Her legacy is honored through donations to the CMU Literacy Center, serving Michigan with professional development for future and practicing literacy educators as well as literacy tutoring for children and families.
Registration for this event is closed.
Due to the overwhelming response, this event has reached capacity. We look forward to seeing you at our next event.