Athletic Training MSAT
You are one step closer to your athletic training pursuit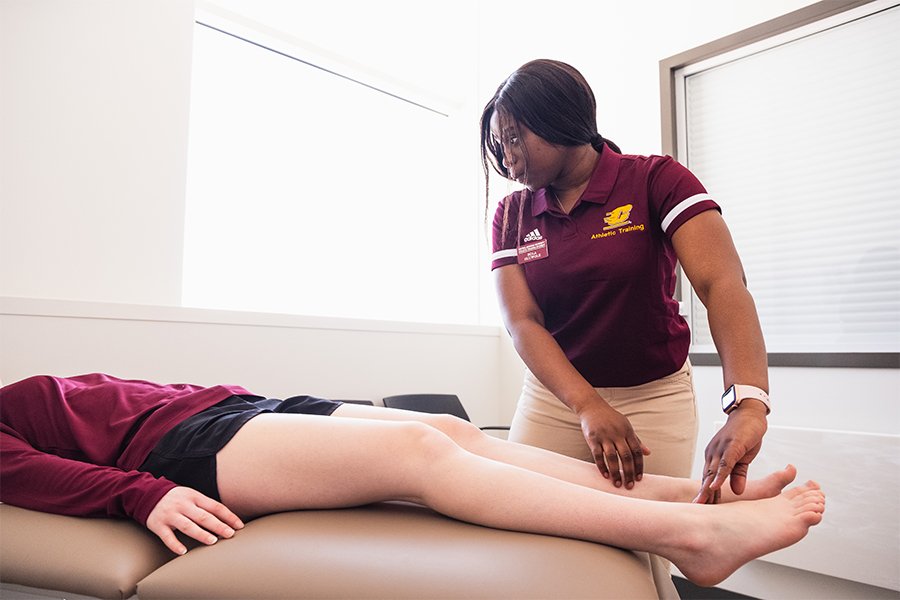 Beginning in 2023, students in their final year of a bachelor's degree can apply directly to the Master of Science in Athletic Training (M.S.A.T.) program. The MSAT is a concentrated area of study that prepares you to enter the athletic training profession. The athletic training program includes classroom laboratory instruction and clinical field experiences designed to prepare entry-level certified athletic trainers. Upon completion of the MSAT, you are eligible to apply for the Board of Certification, Inc. national examination to become a BOC certified athletic trainer (ATC).
You must complete admissions requirements before selection to the MSAT can be completed. You must have an earned bachelor's degree prior to beginning the MSAT graduate coursework. This major map lays out the structure of the program. Thirty-two students will be selected and admitted annually to the MSAT After being selected, you will complete two years of professional coursework. You cannot enroll in MSAT courses until selected into the MSAT program. In addition to the graduate coursework, you will have a variety of clinical education experiences, which may include working with various athletic teams at the collegiate and high school level, physically active individuals in CMU's recreational facility, physical therapy/fitness clinics, physician offices, and emergency rooms.
If you're contemplating the MSAT you are strongly encouraged to meet with an athletic training faculty advisor to assure you understand the requirements for the undergraduate major and admissions criteria for the graduate athletic training program.
What is an athletic trainer?
Athletic trainers are health care professionals who provide athletic training services, under the direction of or in collaboration with a physician, based on their education, training, and the state's statutes, rules, and regulations. Athletic Trainers provide services such as primary care, injury and illness prevention, wellness promotion, emergent care, examination and diagnosis, and therapeutic intervention. For more information about athletic training, please visit the BOC, NATA, and/or AT Your Own Risk.
Where are athletic trainers employed?
Athletic trainers are employed almost anywhere people are physically active. Employment settings include:
Colleges and Universities.
Secondary Schools.
Hospitals and Clinics.
Industrial and Commercial.
Performing Arts.
Professional Sports.
The Military.
Employment of athletic trainers is projected to grow 19% from 2018-2028, which is much faster than average. (Information provided by the United States Deparment of Labor, Bureau of Labor Statistics, Occupational Outlook Handbook).
What is the history of the athletic training program at CMU?
As the athletic training profession transformed from a trade to a profession, and curricula and accreditation evolved in the 70's and 80's, so did the education program at CMU. In 1979, the faculty and staff at CMU supported the NATA Professional Education Committee (PEC) resolution to develop athletic training education programs as academic majors and formulated a 64-hour sports medicine major. As published in the 1981-82 bulletin, CMU was proud to offer students the choice of either a major, known then as the Sports Medicine major, or an athletic training minor, as programs of study to achieve national certification. In the spring of 1984, the NATA PEC evaluation team conducted a comprehensive on-site visit. CMU's undergraduate sports medicine major (leading to athletic training certification) was the first program in the country evaluated, by the PEC, as an undergraduate academic major.
On June 12, 1984, the NATA Board of Directors continued its approval of CMU's athletic training education programs. Since 1984, many curriculum revisions and accreditation visits have taken place, maintaining the strong tradition of education. Each visit resulted in continuing approval or accreditation of CMU's athletic education programs. The athletic training minor was eliminated in 1989, so faculty and staff could focus its resources and energy on the advancement of the 75-hour athletic training/sports medicine major for the preparation of entry-level certified athletic trainers.
In 2011-2012, CMU began offering a Bachelor of Science in Athletic Training (B.S.A.T.), with a single major, Athletic Training. The B.S.A.T. is the first degree in athletic training in the state of Michigan. The athletic training program's most recent on-site evaluation occurred in the fall of 2014. In February 2015, the Commission on Accreditation of Athletic Training Education (CAATE) awarded CMU's program continuing accreditation with the next comprehensive evaluation scheduled to occur during the 2024-2025 academic year. The Athletic Training Program faculty, staff and preceptors, as well as the CMU administration, remain committed to excellence for delivering an athletic training program that exceeds the Standards for the Accreditation of Entry-Level Athletic Training Programs adopted by CAATE.
Why study athletic training at CMU?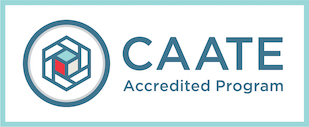 The Central Michigan University athletic training program is a CAATE accredited program that is active in good standing.