Choosing your Philosophy Courses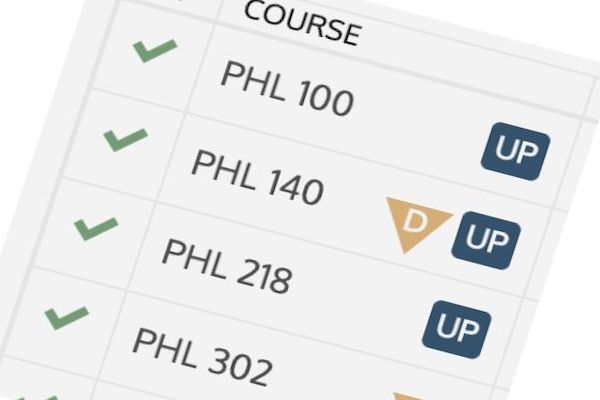 Philosophy is the study of fundamental questions such as: Is there objective truth, or is everything just relative? Do we have free will? Is the mind or soul more than the brain? Is morality a matter of opinion? Philosophers examine such questions systematically and critically. Studying philosophy is a great way to develop marketable skills in critical thinking, creative problem-solving, and effective writing.
At CMU, you can take a wide variety of courses in philosophy. Many students take one or several of our courses for general education or electives:

University Program Subgroups

I-A: Human Events and Ideas.
II-B: Quantitative and Mathematical Sciences.
IV-A: Studies in Discrimination.
IV-C: Studies in Racism and Cultural Diversity in the United States.
Competencies
Writing Intensive (many offerings).

Quantitative Reasoning (PHL 141, 145).
Philosophy degrees
Students interested in deeper study can pursue one of our of majors, minors, or certificates:
Philosophy advisors
Philosophy advisors are happy to talk with you about any of your courses. Are you currently in a class with a philosophy professor? Feel free to ask them about courses that interest you. All philosophy faculty can serve as advisors for your major, minor, or certificate. Our Philosophy Program coordinator, Dr. Andy Blom, is also available to help you.
Transferring to CMU
Transfer students are encouraged to contact the Department of Philosophy and Religion to connect with an advisor as soon as you are interested in transferring to CMU. Our advisors are available to connect with you via phone, email and/or a web-based meeting.
Advising appointments
Just send an email with your name, phone number and availability to the Philosophy Program coordinator, Dr. Andy Blom, to request an appointment or request information about our program.
Undergraduate admissions office
Students interested in transferring will find it helpful to also contact the Undergraduate Admissions Office for information on applying to CMU and determining what credits will transfer.