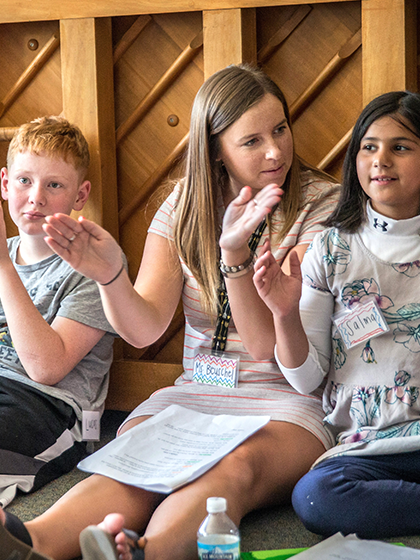 Educator Preparation Programs
The Educator Preparation Programs (EPP) is the primary coordinating body for all of CMU's teacher preparation programs which are distributed across five of the campus' colleges and involve 16 departments/schools and four interdisciplinary councils. The EPP consists of education faculty members, Director of Educator Preparation, the dean of the College of Education and Human Services (CEHS), and the dean or dean's designee of College of Arts and Media (CAM), College of Health Professions (CHP), College of Liberal Arts and Social Sciences (CLASS), and College of Science and Engineering (CSE).
The EPP offers 7 graduate programs at the master's, specialist, and doctoral levels, and 23 areas of specialized study at the undergraduate level. The EPP supports approximately 1,000 admitted and enrolled undergraduate students and teacher candidates. Teacher candidates seeking initial educator certification preparation follow a course of study in either the elementary or secondary levels.
The EPP houses 137 faculty members (both undergraduate and graduate-level faculty) who prepare and deliver instruction in various courses for educator preparation. The work of the EPP is enhanced by extensive partnerships with P-12 schools and Michigan communities, providing global experiences to candidates, and a widespread network of student teaching centers. Furthermore, the EPP offers support to candidates through the Center for Student Services, Center for Clinical Experiences, and Undergraduate Academic Advising, all housed in the College of Education and Human Services.
Our Vision
The vision of the Central Michigan University's Educator Preparation Programs is to create an equitable, inclusive, and just society by transforming today's teacher candidates into tomorrow's educational leaders and innovative professionals.
Our Mission
Our mission is to prepare critically reflective, self-aware educators committed to promoting equitable access to learning opportunities and positive educational outcomes for all learners.
We accomplish our mission by:
Actively working toward arrangements of schooling that promote equity and inclusion.
Modeling critical reflection and a way of thinking about diverse learners and the human differences that preserves dignity and conveys respect and appreciation.
Preparing educators with practices that maximize access to learning opportunities and promote equitable educational outcomes.
Supporting educators in sustaining their commitment to equity by providing them with strategies for collaborating with colleagues, educational leaders, families, and communities to enhance educational experiences for all students.
We value:
Instruction | To prepare educators with strong subject-area knowledge who implement a range of developmentally, culturally and linguistically appropriate teaching practices to support students' social and emotional development.
Inclusion | To prepare educators who create inclusive learning environments and conditions in which ALL benefit and participate, differences are celebrated and students' cultural and linguistic strengths and identities are built upon as resources for learning.
Integrity | To prepare ethical educators who celebrate human differences, convey respect and appreciation for different cultures and worldviews, while promoting equity and access in schools and society.