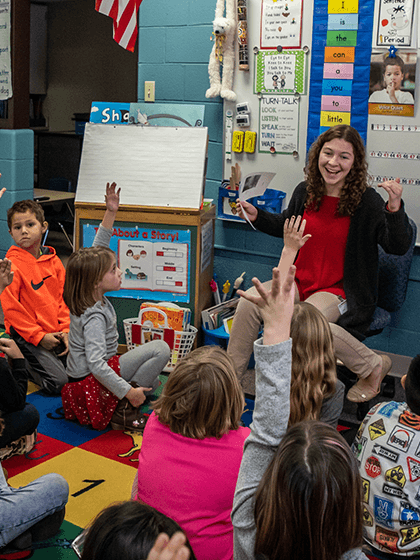 Teacher Education and Professional Development
As the second-largest teacher preparation program in Michigan, we graduate more than 300 students annually from 20 different academic areas. You'll develop your own teaching style through classroom observations and practical experiences in our partner schools that culminate with a semester-long student teaching placement.
Becoming a teacher
Our undergraduate studies will give you the knowledge and skills to jump-start your career. Graduates seeking an opportunity to excel further in their education can find certificate and graduate-level courses that provide additional opportunities for professional development. ​
After you apply to Central Michigan University, you can begin the process of admission into the teacher education program. There are three admission cycles every academic year in the fall, spring and summer.
Learn to educate the next generation as you prepare for one of the world's most important professions
Our early childhood, elementary, and special education candidates are prepared to address the needs of the whole child. They use relevant, research-based criteria to establish a supportive, engaging environment that fosters, learning; and best practices that meet the needs of all learners. This learner-centered major prepares you for leadership in areas of literacy, mathematics, science, and social studies to teach students from birth to sixth grade.
You'll choose from a variety of grade band majors. Pre-student teaching and student teaching experiences offer you a variety of options in the classroom, both minutes away from campus, across Michigan or abroad.
You can choose to be certified to teach within one specific grade band or choose multiple bands to expand your certification. For example, a major in PK-6 opens options for you to teach students in grades PK-3 and 3-6.
Learn more about what you can do here
STEM Education
Get hands-on experience with STEM to better prepare the next generation of scientists. Work closely with faculty to plan, program, and host several events that focus on science, technology, engineering, arts, and mathematics — or STEM.