About the CMUBS
Purchased for $1 in 1942 from the Michigan Conservation Land Division, the then Central Michigan College of Education intended the property for educational use but did not initially develop the site until 1959. Construction on the main lodge began on July 1, 1959, and once the main lodge was completed, the station could formally open. Classes were offered during the summer terms beginning in 1960. Over the years, with the additional assistance from grants received from the National Science Foundation and private donor support, the station has expanded to include the lodge with dining hall, dormitories, a classroom building with auditorium, library and teachings labs, research labs, faculty/staff housing, a pole barn, additional cabins and a campground. In 2006, CMU purchased the decommissioned Coast Guard boathouse on Whiskey Point, providing a deep water dock for the Research Vessel Chippewa, and two Zodiacs. Donor support also enabled CMU to purchase Miller's Marsh, and provided the deed to Edbert Farm.
W
here is the CMU Biological Station?
The field station is located on Beaver Island in northern Lake Michigan, 15 miles off the coast from Charlevoix.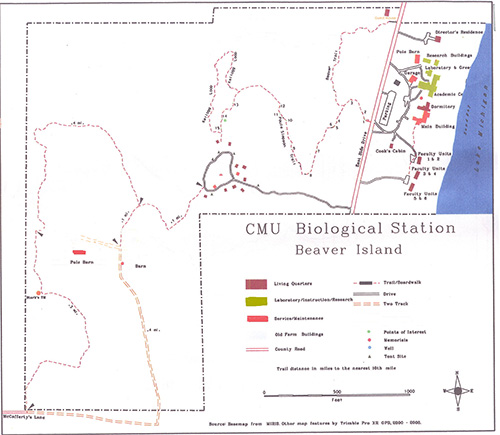 Summer employment opportunities
Since the founding of the station, student workers have been crucial to its operations. The station staff hire student workers every summer season to work with Facilities Management (grounds crew), the kitchen staff, an operations assistant to assist the station manager, and a conference hall director to oversee the dorms and organize social events. Check listings with Student Employment Services in early spring semester for the summer job postings for the CMU Bio Station.
Travel and transportation to the station
Individuals must make their own transportation arrangements to the station, which can be reached from Charlevoix, Michigan. Ferry services and air taxis are available to transport you to Beaver Island and the Central Michigan University Biological Station.
College students and all other adults are responsible to make their own ferry or flight plans, and must inform the station staff of these plans to arrange transport from the ferry dock or airport. High school students registered for Bio 100Z will be met at the BIBCO ferry dock in Charlevoix by a CMU representative to assist with travel.
Students should board the 2:30 p.m. ferry the day before the scheduled class start date (Sunday at 2:30 p.m. for most students). Students will be returned to the ferry dock in St. James as specified on the specific course schedule.

During registration, groups and researchers must let CMUBS know the time of their departure from Charlevoix and their transportation carrier.

If your plans change, please call 231-448-2325.
Beaver Island Boat Company
103 Bridge Park Drive
Charlevoix, MI 49720
231-547-2311 or 888-446-4095
bibco.com
Arrive at the ferry dock 1.5 hours before departure to purchase your tickets

Boarding begins 20 minutes prior to departure

The ferry ride to Beaver Island is approximately 2.5 hours
Fresh Air Aviation, Inc.
06918 Old Norwood Road
P.O. Box 328 Charlevoix, MI 49720
888-359-7448
freshairaviation.net
Arrive at the airport about 45 minutes before your flight

The flight to Beaver Island takes approximately 20 minutes
Island Airways
111 Airport Drive
Charlevoix, MI 49720
800-524-6895 or 231-547-2141
islandairways.com
Arrive at the airport about 45 minutes before your flight

The flight to Beaver Island takes approximately 20 minutes
On the island
All scheduled class arrivals will be met by CMUBS staff.

All transportation to and from the airport or ferry dock on the island will be provided by CMUBS.

Vehicles are available for use by classes, groups and researchers.

Potential drivers of university vehicles must submit their name and drivers license number during registration.

CMUBS does not provide vehicles for personal use.

Students taking classes may bring a bicycle or a vehicle (contact Beaver Island Boat Company for more information). Please inform CMUBS staff you will be bringing a bicycle or vehicle two weeks prior to your arrival.
Vehicle parking
Vehicles can be parked in Charlevoix for the duration of your stay at CMUBS. Parking rates and locations are available through the Beaver Island Boat Company office and the airports – check with your transportation carrier to arrange for long term parking.