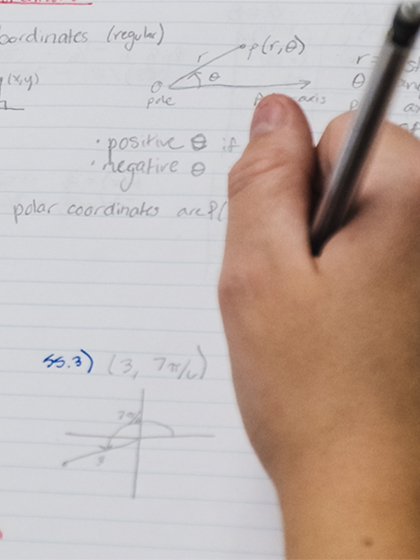 Department of Mathematics
Whether you're interested in theoretical mathematics, applied mathematics, or teaching mathematics, we will help you build a foundation in Mathematics for a successful career in a technological society and competitive global environment.
Exponential growth
As a CMU mathematics student, you'll have opportunities to collaborate with renowned faculty on high impact research projects where you'll:
Work on various modeling and experimental validation, including recent Covid-19 related infectious disease to material modeling and analytical logic.
Explore graph theory. Dmitry Zakharov's students have found a way to modify path-counting on the quotient in such a way that the modified zeta function of the quotient divides the zeta function of the original.
Learn more about how our academic programs spur Central Michigan mathematics students to reach new heights!
CMU has done so much for me. I could not imagine myself anywhere else.
Mathematics Education
Ana Dias: Sociopolitical Issues in Mathematics Education, Mathematics in Career and Technical Education and in the Workplace, Game-Based Learning
Donna Ericksen: Mathematics Education
Martha Frank: Beliefs and Motivation in Mathematics
Douglas Lapp: Technology for Teaching and Learning Mathematics, Teaching and Learning of Abstract and Linear Algebra, Semiotics
Tibor Marcinek: Mathematical Knowledge for Teaching, Technology for Teaching and Learning Mathematics
Christine Phelps-Gregory: Beliefs and Motivation in Mathematics, Mathematical Knowledge for Teaching, Preservice Teacher Education
Katrina Piatek-Jimenez: Equity in Mathematics Education, Stereotypes of Mathematicians, Teaching and Learning of Proof
Dennis St. John: Technology for Teaching and Learning Mathematics