Meet the Director of InSciTE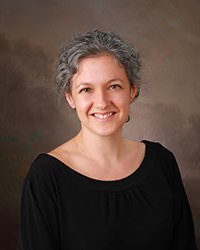 Wiline Pangle, Ph.D., is a faculty member in the Department of Biology at Central Michigan University. She teaches a variety of classes, which include entering freshman introductory biology courses, upper-level courses in evolution and Behavior, and graduate-level professional development and writing courses.
She has received prestigious grants and fellowships, such as the American Association of University Women International Fellowship, for her doctoral work carried out in Kenya on spotted hyena behavior.
Her current research is centered on two themes:
Behavioral ecology of mammals, specifically decision-making processes involved in antipredator behaviors; she has published peer-reviewed articles on local species, such as the Eastern chipmunk, but also on spotted hyenas, the focus of her dissertation work.
Interdisciplinary pedagogy, specifically teaching biology using performing arts; she has worked extensively with K-12 educators around the Great Lakes area and had led inquiry-based teacher workshops on Beaver Island at CMU's biological Station. She is the co-author of two books, one that explores the intersection of science and writing, the other interdisciplinary teaching approaches.
Wiline Pangle discusses the program in this podcast.