BIO 100Z
Bio 100Z Field Biology provides an introduction to college-level fieldwork in Biology. Students work across the island, on land and in the water, learning sampling techniques and exploring different ecosystems. You'll then take those samples to the lab and analyze them, identifying and studying what you've collected. When class is over, more fun begins with hiking, swimming, and hanging out with your classmates. Let us know you're interested here to start the registration process.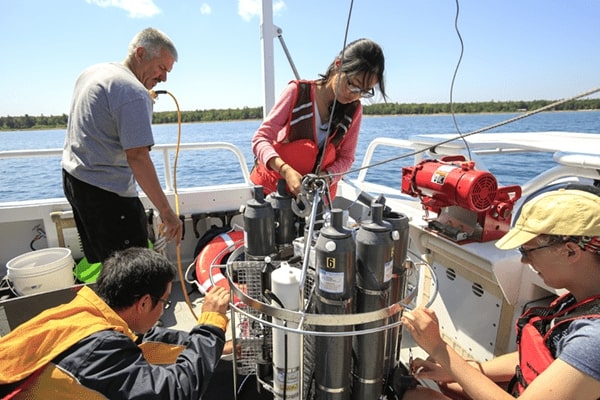 Application process
Your contact information will be sent to our Admissions office. Our Admissions staff will contact you with directions for submitting the application for CMU, requesting your high school counselor's approval, and your high school transcript. Dual enrolled high school students have the application fee waived and do not need to pay the student services fee.
Students in high school
will be contacted by the dual enrollment specialist (whether or not you actually will get dual enrollment credit at your high school, the process is the same for all high school students). CMU has an application specific to dual enrollment for high school students.
Alex Bohnsack
989-774-3076
bohns1ae@cmich.edu
Incoming freshmen
who have already been admitted to CMU will work with an academic advisor. If you have attended orientation, you can contact your assigned academic advisor. If you haven't yet attended orientation, please contact Heidi Mahon, Director of Student Services for the College of Science and Engineering and she will assist you.
Heidi Mahon
989-774-1576
mahon1hk@cmich.edu
Registration and setting up your cmich account
When your application materials are complete, these materials are sent to the Registrar's office and you are formally registered for this course. You'll be notified and given instructions for setting up your username and email for access to CMU online systems. Check your cmich.edu email regularly for planning and course information. CMU's Help Desk can help with all sorts of IT issues including forgotten passwords, links not working, etc.
CMU Help Desk
989-774-3663
helpdesk@cmich.edu
online chat
Financial issues
Because your tuition and housing/dining fees will be charged to your student account, you may wish to give your parents or guardians access to your account to assist with paying your bill. You can request this via directions at our Student Account Services and University Billing site:
Once you're registered
Once you are registered for the class, our station staff will contact you to confirm housing and travel plans. We also provide a list of suggested items for packing. The BIO 100Z instructor will use our online course system, Blackboard, to share any additional course materials required.
Scholarships
Bio 100Z students can apply for the CMU Bio Station tuition scholarship and will be automatically included in funding from the JoAnn Hinds Funds. Students must apply for the tuition scholarship through the Biology scholarship program, with applications via email following the directions available on our biological scholarships page.
The deadline for scholarships is March 15. No application is required for the Hinds awards and these will be determined once the final enrollment in the course is confirmed on the first day of classes. The amount of the award (up to $500 per student) depends on the number of students enrolled each year in this course.
Housing
Our Bio 100Z students stay in the men's and women's dorms at the station, with chaperones available. Meals are served in the dining hall – vegetarian options are provided. Any other dietary restrictions should be discussed with the station staff.
Travel
Bio 100Z students will meet at the ferry dock (103 Bridge Park Drive, Charlevoix, MI 49720) in Charlevoix 2 hours before the 2:30 p.m. ferry departs the day BEFORE the course begins. Purchase a round-trip ticket from the ferry office when you arrive (and save it for the trip back to Charlevoix) and meet with the CMU representative. Your baggage will be packed into racks for the ferry and you'll be on your way!
Checking your grade
After the course is complete, you can check your grade online at the Degree Progress site.