Education
CMU's field station on Beaver Island provides a unique location for students to engage in coursework. The island's freshwater ecosystems, natural habitat and seven biologically unique inland lakes provide an unmatched learning and research environment. Small classes and inspired instructors create learning environments that will impact you for a lifetime. The island becomes your classroom as you explore and learn.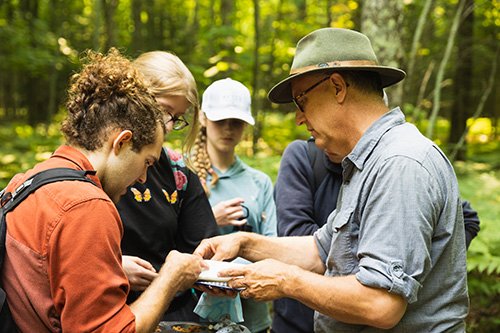 Summer courses are available through the Course Search and Registration system, beginning in February each year. Search with keywords "Beaver Island" to locate the full roster. Tuition is charged at the same rate as courses on the main campus in Mt Pleasant. No student services fee is charged for bio station courses. CMU students are encouraged to apply for station scholarships available through the Biology Scholarship page by the March 15 deadline.
All registered students living at the station will need to also sign up for housing and meals (link to housing and meals page). Once registered, each student will be contacted via email by station staff for housing registration – check your email! See the facilities description for more information on housing and rates. Contact the station staff at cmubs@cmich.edu with questions.
Each student is responsible for getting themselves to Beaver Island. Information about travel and transportation options are detailed on the About the station page. Station staff can help make connections for ride-sharing to Charlevoix, MI, the starting point for traveling to Beaver Island.
Guest students from other colleges and universities
You don't have to be enrolled at CMU to take courses at the station! College students from other universities can register as guest students following the instructions on our guest student page. You can also apply directly using the complete the Michigan Uniform Guest Application, completing sections 1 and 2 specifically, then email to apply@cmich.edu. Our Admissions staff can help get you enrolled then to take a course at the station. Contact: 989-774-3076 or cmuadmissions@cmich.edu. Once you are registered, our station staff will contact you about housing options.
High school students
Workshops
Interested in learning without registering for credit? See our workshop page! Workshop participants can elect to attend certain courses identified as workshops as well and participate in building knowledge but not earning the course credits. Workshop participants pay a workshop fee ($325 per credit hour) and housing/dining costs for their stay at the station. See the housing page for information about housing options and costs. Please contact station staff if you have questions about workshops or the registration process.
Senior Citizen Audit
Senior citizens are able to audit courses at the station, following the guidelines established by the Registrar's office for auditing at CMU. Interested senior citizens will need to submit an application through our Admissions system in order to be able to register as an auditor (link to https://fireup.cmich.edu/apply/). Faculty approval is required and space must be available in the course to allow for an auditor. Please talk to the instructor for the course first to determine if auditing is possible for that course.