Scholarships Benefit Library Student Employees and the University Libraries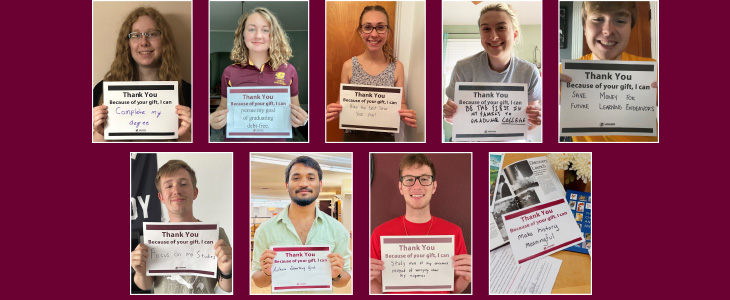 The University Libraries awarded scholarships to nine library student employees for the 2022-2023 academic year. We greatly appreciate our donors whose gifts and endowments make these funds available! Please join us in congratulating our scholarship recipients:
Gus and Lucille Grozdon Family Scholarship 
Valerie Schafer
Major: Statistics and Psychology
Works in Acquisitions and Metadata Services
Helen Holz Rooney Endowed Award 
Allyse March
Major: Integrative Public Relations


Works in User Services
Zoe Reddick
Major: Theatre and Dance


Works in Service Desk Operations
R&M Schmidt Endowed Award 
Lucas Warnke
Major: Accounting and Finance


Works in Documents on Demand
Nova M.
Major: Physics, Mathematics and Music


Works in the Clarke Historical Library
Library Student Employee Scholarship Fund
Abby Wanless-Nagy
Major: Dance Studies


Works in Access & User Services
Jarrett Kelley
Major: Bachelor of Science in Health Services Administration


Works in Access & User Services
Larry Laponsie
Major: Education


Works in Library Systems
Vamshi Reddy
Major: Master of Information Systems


Works in Access & User Services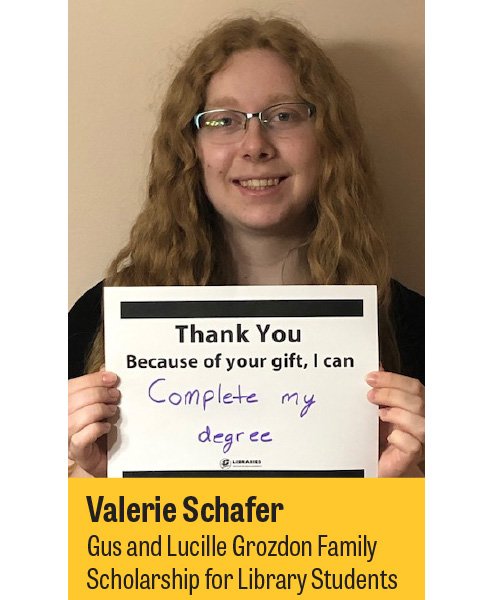 Valerie Schafer has worked in Acquisitions and Metadata Services for 3 years. Fall 2022 semester marks the start of her fourth year. Her favorite part of working in the library is all the people she has met and worked with. She also enjoys seeing what new books the library receives and watching the library's collection grow. Valerie plans to graduate in May 2023 with two majors in Statistics and Psychology and a minor in Mathematics.
Are you interested in supporting the library student employee scholarship fund? Go to the University Libraries' Giving Form and select Library Student Employee Scholarship Fund. Your gift will make a difference in the lives of our students! 
Blog:
University Libraries
posted | Last Modified: | Author:
by Kathy Irwin
| Categories:
CMU Library
Students