A Familiar Face in a New Place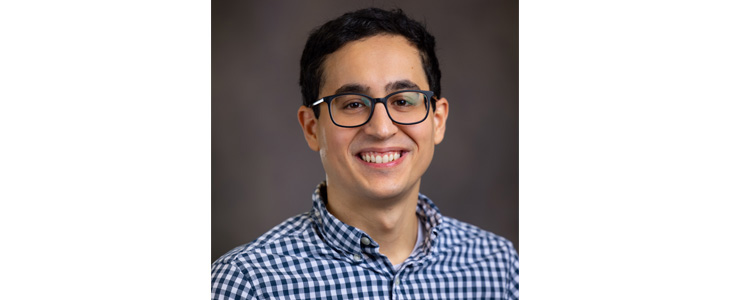 The Libraries is happy to announce Hytham Dali, formerly our Coordinator of Access and Delivery Services, as our new Manager of Access and User Services. He began his new role on October 3, 2022. In his new position, Hytham oversees the library's public services desks, print collections and stacks maintenance activities, building operations, course reserves, and Documents on Demand.
Hytham is a long-time employee of the CMU Libraries, dating back to his time as a student employee beginning in 2009, first in the former Off-Campus Library Services department and then in the Interlibrary Loan (now called Documents on Demand) unit. After graduation, he joined the library as a Senior Specialist Clerk in what is now the Acquisitions and Resource Management department before moving back into Documents on Demand as a Senior Office Specialist, then the Daily Operations Supervisor, then finally into his role as Coordinator of Access and Delivery Services. He has also worked as an evening reference librarian providing research help to students and faculty. Hytham's extensive library experience and familiarity with library operations will serve him well in his new role.
Hytham was born and raised in southwestern Michigan, and, with the exception of one year spent living and working in the Washington D.C. area, he has lived his entire life in the Great Lakes State. In his time away from the library, he enjoys playing board games, digital preservation of old media and CD-based video games, bird watching, and hiking. He has visited nearly all of the Chippewa Watershed Conservancy nature preserves and is a regular visitor to Viet's Woods.
Welcome to your new role, Hytham!
Blog:
University Libraries
posted | Last Modified: | Author:
by Tim Peters
| Categories:
CMU Library
Libraries