Bryan Whitledge Appointed Clarke Public Services Librarian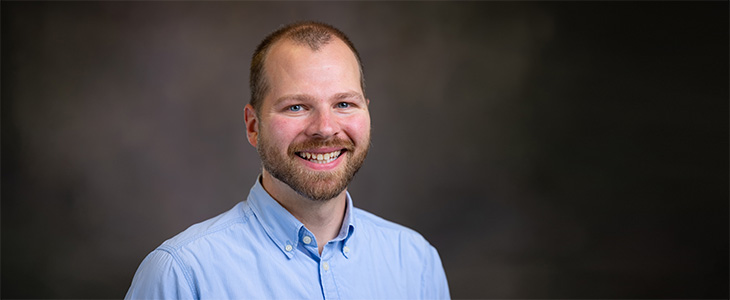 The Clarke Historical Library is pleased to announce that Bryan Whitledge is our new Public Services Librarian. He began this new role on September 1, 2022. The Public Services Librarian is 'first contact' for most researchers, and Bryan brings to the role deep subject knowledge of CMU history and Michigan history as well as a strong commitment to providing the best service to our users. As Public Services Librarian, Bryan develops and manages the Clarke's public services and provides advanced research support to students, faculty, staff, and the wider research community. In addition, he oversees the reading room operations and supervises a team of student staff that supports our public-facing services. Bryan collaborates with faculty and library colleagues on instruction focused on primary source literacy. He also leads the exhibition program and is a key contributor to promoting the Clarke's collections, services, and programs within CMU and outward to the community.
Bryan is a long-time employee of the Clarke and the CMU Libraries. From 2011-2015 Bryan was a project researcher and the Clarke's reference assistant; after that he managed reformatting and imaging before he was appointed the first Archivist for University Digital Records in 2016. He's involved regionally and nationally in archival associations and has given many presentations on archival and digital library topics. Bryan received his Master of Library and Information Science degree from the University of Illinois at Urbana-Champaign in 2011 and a Master of Arts degree in political science from CMU in 2019. Before embarking on a career in librarianship, Bryan trained in secondary-level social studies education with the hope of also being a sports coach. Among his many interests, Bryan is a dedicated four-seasons bicycle rider and is a fountain pen collector and ink enthusiast. He also is a puzzler; he loves crossword puzzles, pub quizzes, and trivia.