Nov. 18, 2021: What to expect on launch day
We're less than one month from the launch of the new cmich.edu and the question on everyone's mind is: What happens to the old site and all my stuff?
With exams and grading right around the corner, we know it's important for current students, faculty and staff to have access to the applications they use regularly, such as Blackboard and TimeClock, as well as personal account management tools, such as paying bills, checking paystubs and more.
Good news: The information, tools and resources you need will still be available, and you'll still be able to access them from the main cmich.edu landing page.
Here's how it works:
When you visit the new cmich.edu after Dec. 10, you will notice a sign-in button with a key-shaped icon in the upper righthand corner of the page. By clicking the sign-in button, you'll be able to use your CMU Global ID and password to log into the My Account page, which includes links for the services you need.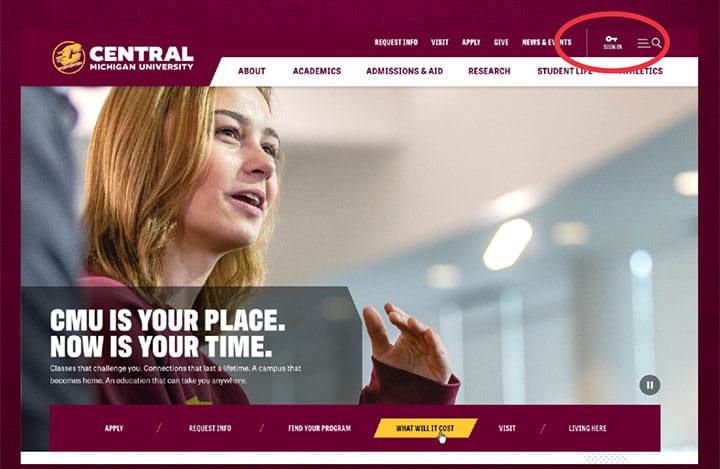 Just as they can now, students will be able to easily log into Blackboard, check their degree progress, view and pay bills, and more. Faculty and staff will still find human resources, payroll and benefits information; submit grades; post jobs; manage time sheets; and more — just as they do now.
Want to know how it will look? Visit the My Account page now, and scroll through the available options or use the search function to find what you need quickly. It will look exactly the same after Dec. 10 — all the tools, resources and links you see today will be there!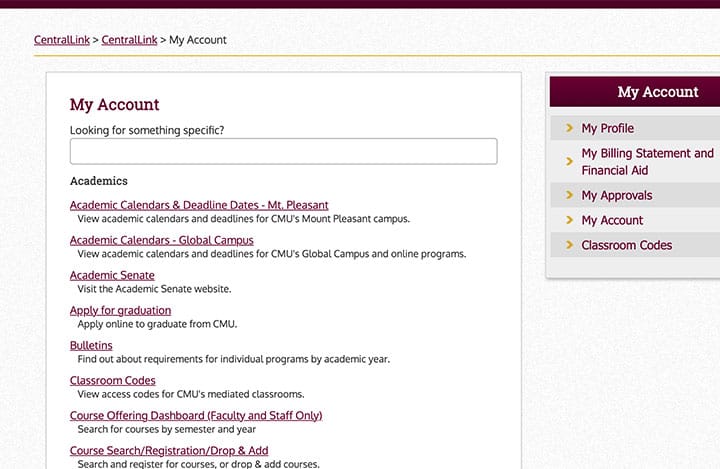 A new intranet — or internal website — specifically for current students, faculty and staff will launch in 2022. Until then, the "old" cmich.edu will still exist. You'll still be able to view those pages after Dec. 10 by visiting archive.cmich.edu.
You've got questions, we've got answers: Check out our FAQ page! We will update the page regularly with new information, so check back often.