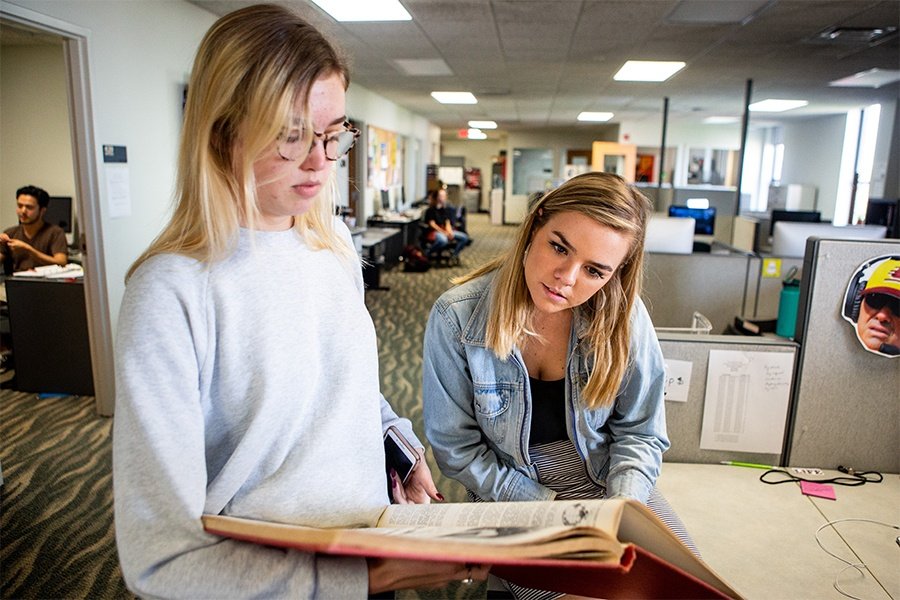 Fired up and Focused
Emma Dale
Student
Biography
As the editor-in-chief of the student-led newspaper CM Life, Emma Dale's daily life revolves around stories.
Stories from campus, the community and around the state.

But she wouldn't have it any other way.

The journalism and political science double major from Grand Haven, Michigan has always wanted to be a journalist.

"CM Life is the reason I chose CMU. I knew we had a really good journalism program," she said.

Dale started at CM Life her freshman year as a staff reporter and worked as the community editor during her sophomore year.

Working at the paper has given Dale the opportunity to meet many people, students and staff alike.

"I think it's really cool that I know a lot of university people." Dale said. "It makes you know your university better and appreciate the people who work here."

Through her experiences at CM Life, Dale attended the Michigan Press Association's annual convention as well as had multiple internships, that no doubt helped lay the foundation for her career as a journalist and produced several stories for her clipbook.

"I wanted to become a journalist and become part of something bigger than myself." Dale said. "Everything that I'm going to carry on into my career comes from CMU and CM Life."
Fast Facts
Emma's hobbies include watching movies and hanging out with friends.
Her favorite quote comes from her dad, "Do what you love, and money will come."
Emma loves downtown Mount Pleasant and visits every chance she has.
Fun Fact
Emma loves movies about journalism and reporters.
Hometown
Grand Haven, Michigan
Major
Journalism and Political Science
College
College of the Arts and Media
Expected Graduation
May 2020
I wanted to become a journalist and become part of something bigger than myself.