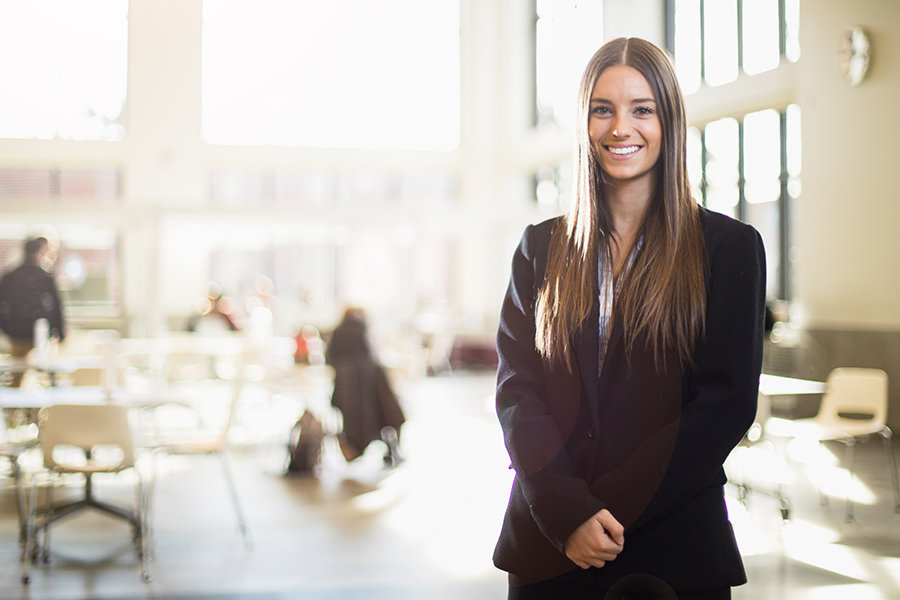 Fired up and Focused
Hannah Burgess
Student
Biography
Hannah Burgess was looking for a supportive community and a place to call home when she came to CMU.
Finding success in national sales competitions was just an added bonus.

Initially drawn to Central because of the cheer team and an academic scholarship, Burgess was unsure of what to major in.

"I knew I wanted to do something in business, so I met with an academic advisor from the college, and they told me I should speak to Dr. Dingus," Hannah said.

It was the beginning of a beautiful mentorship. The pair immediately hit it off, and Dingus, a marketing and hospitality services professor, asked Hannah to join her at the University of Toledo International Sales Competition her sophomore year.

During competitions, contestants are presented with a customer scenario where they must try to sell a product to solve the customer's problem. Hannah said even though she didn't compete her sophomore year, it was still a beneficial learning opportunity.

"I was able to see the scenario, learn the product and watch how everything would go from an outside perspective," she said.

Hannah competed at UTISC to compete as a junior. She represented CMU and placed seventh out of 34 schools.

This year, she will compete at the International Collegiate Sales Competition. She also will return to UTISC as a peer coach, where she will be a resource for competing students as they go through the competition process. In fact, as a direct result of her UTISC experience, Hannah will start her first full-time sales position at 3M this summer, a company whose product she sold at the competition.

CMU not only became a place that Hannah considers a second home, but led her to a supportive community.

"Ever since I've been here, I feel like I'm at home. Everyone is so friendly and welcoming," Hannah said. "Especially in the business school, it's so apparent that they want you to succeed and do well."
Fast Facts
Hannah is the secretary for her sorority Phi Sigma Sigma.
One of her favorite movies is Remember the Titans.
Her favorite place on campus is the Grawn Hall study room
Fun Fact
Hannah was on the CMU cheer team for two years.
Hometown
Clarkston, Michigan
Major
Marketing with a professional sales concentration
College
College of Business Administration
Expected Graduation
May 2019
Ever since I've been here, I feel like I'm at home. Everyone is so friendly and welcoming.