Trusty Trombone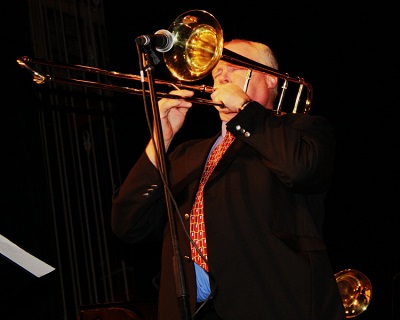 Dr. Robert Lindahl, Professor of Trombone at CMU, researches the use of the trombone in American popular music from 1870-1925. The result of this research was "A Blaze of Glory", a CD and booklet comprised of 19 tunes from the era that featured and demonstrate the development of the trombone. Together, Dr. Lindahl and River Raisin bandleader William Pemberton chose 19 orchestrations, almost none of them previously recorded, from a selection of over 5000 they had at their disposal. "A Blaze of Glory" has received multiple five-star reviews from such publications as Syncopated Times and Fanfare.

Dr. Lindahl and William Pemberton began research in the fall of 2018 by sifting through the extensive library that Pemberton had collected over the past several decades. Criteria for selection were based on the use of the trombone's idiosyncrasies, previously unrecorded or forgotten literature, and music by unrepresented composers of the era including women and African American composers. After narrowing the possible selections to around 100 pieces, Dr. Lindahl played through the literature, researched the composers and stories behind the composition, and together with Pemberton narrowed the search to about 30. They then chose 18 compositions that provided a variety of solo works, rags, cakewalks, marches, and ballads from the era.

As the aims of the River Raisin Ragtime Revue include educating the public about the music of the era, Dr. Lindahl and Pemberton worked together creating a 'booklet' with liner notes and historical information. They began by including a short history of the trombone from its development in mid-15th century Europe. The best metal workers at the time worked near Nuremberg, in what is present-day Germany. In America, the trombone made its debut in 1754. The trombone was the first fully chromatic brass instrument and was mainly produced for royalty and churches. Hector Berlioz was the first to use the trombone as a solo instrument within an orchestral composition, featuring the instrument in his 1840 work "Symphonie Funebre et Triomphale." After this background, each of the 19 pieces from the CD is given ample description along with stories about the composers.
At CMU We Do Creative, We Do Real World
Story by ORGS intern Hailey Nelson
January 2021