National Certification and Standardized Testing
The Certified Testing Center partners with several national testing companies to offer certification and standardized tests. These tests are administered online under strict procedures and requirements as set forth by each testing company. Testing candidates should register and schedule through the appropriate testing company. Here is an overview of some of the tests available; others may be available by contacting the testing company or calling the Certified Testing Center at 989-774-1092.
---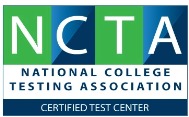 The mission of the Certified Testing Center is to support engaging learning by professionally administering examinations to students and non-students ensuring confidentiality in an ethical, secure, and accessible environment. The Certified Testing Center adheres to the National College Testing Association (NCTA) Professional Standards and Guidelines.