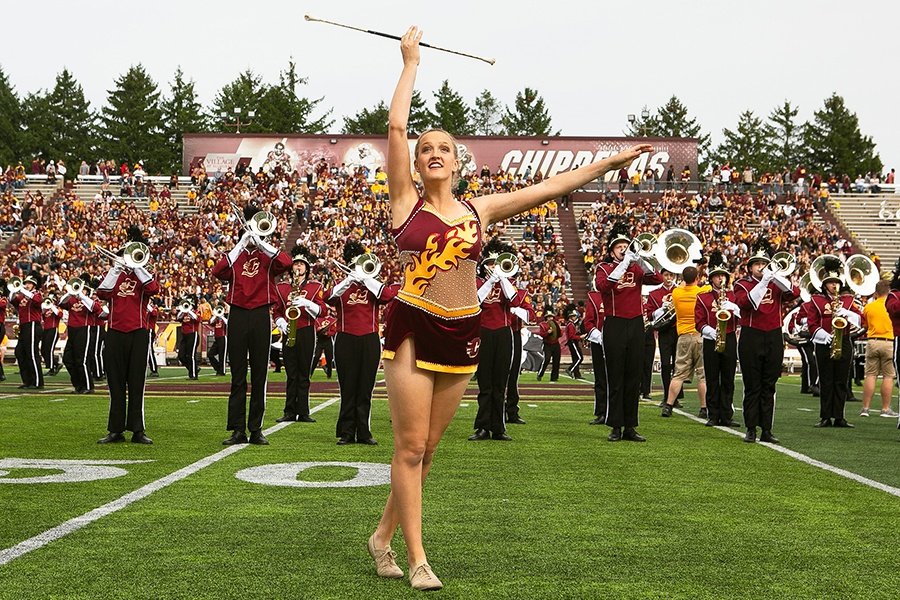 Fired up and Focused
Delaney Schoenbine
Student
Biography
Delaney Schoenbine was drawn to CMU.
As one of the few universities who have a twirler perform alongside the band at the football games, she made an instant connection.

"We went to a football game during my campus visit. I just saw her and knew, that's what I want to do," Schoenbine said.

Schoenbine, who has been twirling all her life, now leads the band onto the field alongside the head drum major as the Chippewa Marching Band's featured twirler.

But school spirit and Chippewa pride weren't the only aspects that solidified CMU as the right school for Schoenbine.

"I came to Central because of the reputation of the caring, interested faculty," she said. "At other schools I would just be a number. I like how the professors get to know you. They'll look for you in class and they're willing to help you."

Schoenbine is a double major in neuroscience and psychology, a path shaped by her own experiences in life. Her mother had cancer and Schoenbine felt a strong need to help people in the same situation.

"I want to find more effective cures for those with cancer," she said. "I'd like to become a clinical psychologist with an oncology psychology specialty."

She is an active participant in the Colleges Against Cancer student organization, a group that works to raise awareness about different cancers while also raising funds for the American Cancer Society.

While Schoenbine's hope as an incoming freshman was to attend a university with school spirit and a great sense of community, she's found much more since becoming a CMU Chippewa. She's found her stride, discovered her passion and has planned out her goals for the future.

"Joining the band has definitely made me more outgoing in other aspects of my life. It's given me the self-confidence to say, 'Hey I can do this,'" she said. "If I can lead the band, I can do this assignment or I can meet new people."
Fast Facts
Delaney's favorite place in Mount Pleasant is Max and Emily's.
She enjoys singing and dancing.
Her favorite quote is "Be fearless in pursuit of what sets your soul on fire."
Fun Fact
Delaney has been twirling her whole life.
Major
Neuroscience and Psychology
College
College of Liberal Arts and Social Sciences
Expected Graduation
May 2021
Joining the band has definitely made me more outgoing in other aspects of my life. It's given me the self-confidence to say, 'Hey I can do this.'