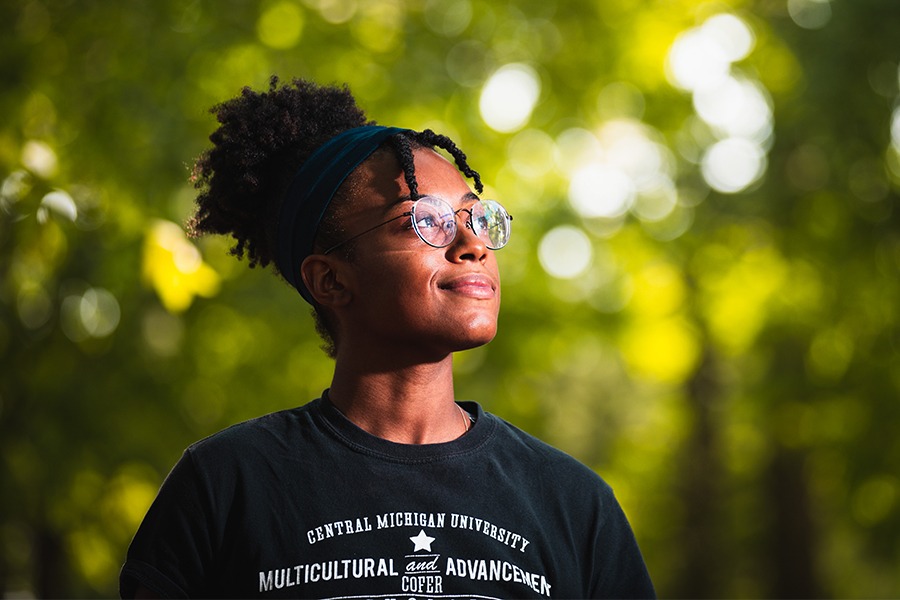 Fired up and Focused
Nyah Hodges
Student
Biography
Nyah Hodges' good grades and compassion for others earned her a full-ride scholarship to CMU, so she knew how to find academic success. But she kept asking herself, would she find it in something she was passionate about? The answer was yes.
To address her worries, she took a big step in the right direction before her freshman year even started. She took part in IMPACT, a two-day multicultural event that allows students to move in early and where upperclassmen help new students of color transition to college life.
From that point on, there was no stopping her. Her confidence and her sense of belonging grew with each new experience.
"There were so many opportunities. It pulled a piece of extrovert out of me," Nyah said.
She became a resident assistant in Carey Hall where she built her leadership and crisis management skills while helping others adjust to their new freedoms and responsibilities. She became an advocate with the Office of Student Affairs, helping students find the resources they need. All these interactions helped her build her communication skills and fulfill her pledge to find opportunities for underrepresented groups by amplifying diverse voices, part of the mission of her Multicultural Advancement and Lloyd M. Cofer scholarship.
These activities led her to find her passion, and her major, in public relations, where strategic communication with the public helps maintain confidence in an organization. To be honest, she didn't even know what public relations was when she first heard of the program, she said.
She served as the director of member services for the Public Relations Student Society of America chapter on campus, helping others discover the major. PRSSA is one of 400+ registered student organizations where students can do more of what they love and step into leadership roles.
Nyah completed three internships that gave her real-world experience in public relations through Michigan: one with Tanner Friedman, a strategic communications firm in Farmington Hills, another with Truscott Rossman of Detroit, Lansing and Grand Rapids, and a third internship with Dow Chemical in Midland.
Oh, and in her spare time, she entered a video she made about her family in the CMU Family of the Year Award competition. They became the very first recipients of the award, and in her video, she credits her mother for pushing her to enjoy her time on campus. As a CMU alumna herself, her mom stressed that she had the best years of her life here.
"So, I started finding different opportunities to grow and find what I truly enjoy," said Nyah. "And all these experiences will help me translate those skills into future work opportunities as well."
Hometown
Detroit, Michigan
Major
Integrative Public Relations
College
College of the Arts and Media
And all these experiences will help me translate those skills into future work opportunities as well.