Pre-completion OPT
​Pre-completion Optional Practical Training (OPT) is available to F-1 students prior to the completion of their program of study. This allows an F-1 student to work off-campus in a position related to their program of study while they are working toward completion of their program. Note that authorization for pre-completion OPT will negatively impact eligibility for post-completion OPT, so make sure to consider all options very carefully before applying. If you have an internship offer and need to work off-campus to complete requirements related to your program of study, please review the information on the curricular practical training page instead. If you are graduating, see the information on post-completion OPT instead.

General Guidelines
In order to apply for pre-completion OPT, you must:
Be in lawful F-1 status at the time of filing.
Have completed a full course of study for at least one academic year or will have met this requirement by the time your requested start date of OPT has been reached.
Not have engaged in more than 12 months of full time curricular practical training.

Not have been previously authorized for 12 months of OPT at your current degree level.

NOTE: You do not need to have a pending job offer to apply for pre-completion OPT.

Once approved for pre-completion OPT, you must:
Continue to maintain F-1 status throughout the duration of your pre-completion OPT experience, including continuing to enroll full time toward completion of your program.
Not engage in work of more than 20 hours each week while classes are in session (students may work full time only during periods of earned vacation and official school breaks).

Not exceed the allotted time of work authorization that USCIS has permitted on your EAD card.

Continue to report all changes in address and legal name; in addition, changes in employment must be reported to the Office of Global Engagement using the Reporting Changes While on OPT page.

NOTE ABOUT ELIGIBILITY FOR POST-COMPLETION OPT: F-1 students are permitted to engage in OPT for up to 12 months. This can be used entirely through pre-completion OPT, post-completion OPT, or can be split between pre-completion and post-completion. Any days of pre-completion OPT will deduct days of eligibility from post-completion OPT (part time days will deduct one half day and full time days will deduct one full day). Additionally, engaging in 12-months of full-time curricular practical training will make an F-1 student entirely ineligible for OPT, both pre-completion and post-completion.

Special Consideration for Thesis/Dissertation Students
Students with only a thesis or dissertation to complete may apply for either Pre-Completion or Post-Completion OPT while completing work on the thesis or dissertation. According to the SEVP Policy Guidance on OPT, dated 4/10/09, if a student in this situation applies for Pre-Completion OPT, he or she:
May work full time.
Is not subject to the unemployment provisions, and may receive a program extension.
May not apply for the STEM extension from a period of Pre- Completion OPT.
Would not be eligible for the cap-gap extension of OPT.
Alternatively, if a student in this situation applies for Post-Completion OPT, he or she:
May work full time.
Would be eligible for the cap-gap extension.
May apply for the STEM extension if otherwise eligible.
Would be subject to the unemployment provisions.
Would be unable to receive an extension of his or her program.
If a student applies for and receives 12 months of Post-Completion Optional Practical Training and does not complete their thesis or dissertation, the student must prepare to either change status, begin a new program of study, or depart the country prior to the end of their grace period.​
Pre-Completion OPT Application Procedure
Step 1: Meet with an OGE Advisor to Plan Ahead & Discuss Options
Before proceeding any further with your pre-completion OPT plans, please schedule an appointment with an OGE advisor to discuss your intentions and to consider all options. Your online application will not be accepted until you've met with an OGE advisor.

Schedule an appointment with an advisor by emailing isss@cmich.edu.
Step 2: Complete Online Application
Start Pre-Completion OPT Online Application
You can start the application and finish it at any time. Your progress is saved. To return to a started application, log in to the OGE application system and click on the "Pre-Completion Optional Practical Training" link under the "Records" heading.
Step 3: Meet with an OGE Advisor to Review Materials & to Receive New I-20

If you have been issued an I-20 with a different SEVIS ID in the past, either with Central Michigan University or another U.S. institution, you should explain that on page 7. This is not common. If yes, enter Page Number 3, Part Number 2, Item Number 26 into the first available item. Then, list all previous SEVIS ID numbers you have had.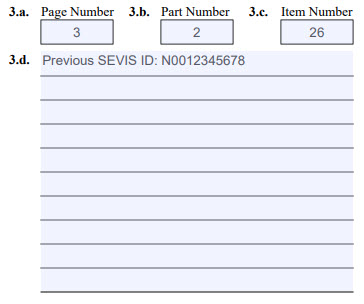 If you have ever been authorized for CPT or OPT in the past, regardless of level, school, or program, you should explain that on page 7. To do so, enter Page Number 3, Part Number 2, Item Number 27 into the first available item. You should indicate which practical training you were previously authorized for, at what level (bachelors, masters, doctoral), whether it was full time or part-time, and your start and end dates (remember American date format: mm/dd/yy or use long-form to avoid confusion [e.g. July 1, 2018]).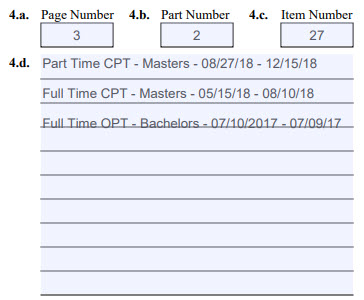 Photocopies (not originals) of any previous I-20 you have had for CPT or OPT authorization (page 2 of the I-20 shows CPT and OPT authorization); old I-20s that do not include CPT or OPT authorization are not required

Photocopy of passport information pages

Photocopy of visa in passport
Copy of your most recent Form I-94 (download here or, if applicable, make a copy of the I-94 card in your passport or Form I-797A if you were approved for a change of status after your most recent entry to the United States)

IMPORTANT: Print all documents single sided and DO NOT STAPLE.
Step 4: Mail Materials to USCIS
Use the following address to mail your materials to USCIS:
If sending by United States Postal Service:
USCIS
P.O. Box 21281
Phoenix, AZ 85036
If sending by UPS, FedEx, or DHL:
Attn: NFB AOS
1820 E. Skyharbor Circle S
Suite 100
Phoenix, AZ 85034
Mail the following materials in this order. DO NOT STAPLE!
Two photos meeting USCIS specifications.

Check or money order for $410 payable to The Department of Homeland Security OR completed Form G-1450 if you wish to pay your filing fee by credit card (money order option is recommended)

OPTIONAL: Completed Form G-1145 if you would like to receive an electronic notification when USCIS accepts your application.

Original Form I-765.

Original I-20 with OPT recommendation.

Photocopies of all I-20s showing CPT or OPT authorization if previously authorized.

Photocopy of Form I-94.

Photocopy of information pages of passport and visa page.

Please note that the OPT application packet must be received by USCIS within 30 days of the OPT I-20 received from the Office of Global Engagement.
Once an application packet has been received by USCIS, it may take up to 90 days to complete processing. Students are not allowed to begin employment until they receive the EAD in the mail. Please allow sufficient time for processing.​​