Serve the Mitten
Alternative Breaks, including CMU's, are known nationally for cross-country service. The CMU Alternative Breaks program also prioritizes the local community through our Alternative Friday and Weekend Breaks.
Alternative Friday Breaks
Alternative Friday Breaks (AFB) are a new opportunity for students to volunteer in the greater Mt. Pleasant area. These opportunities occur every other Friday during the Fall and Spring semesters (with the exception of exam weeks). Breaks are free to students, and a t-shirt and trained student site leaders are provided.
During this time students will learn about local needs and ways to get involved more regularly. For each Break, participants will meet to get a brief orientation where they will meet each other and gather knowledge about the local non-profit selected that week. Students will then spend a few hours serving that non-profit organization in a variety of ways. Following service, volunteers will reflect about their experiences together.
These service experiences are available to all students regardless of their field of study or volunteer experience;​ all that is required is a passion for giving back to the community!
Community Partners & Past Service Sites
Chippewa Nature Center
Humane Animal Treatment Society
Commission on Aging
Mt. Pleasant Discovery Museum
Foster Closet of Michigan
West Midland Family Center
Art Reach of Mid-Michigan
Habitat for Humanity
Joshua's House
Little Forks Conservancy



And more!

To sign up, visit the Alternative Breaks Engage page.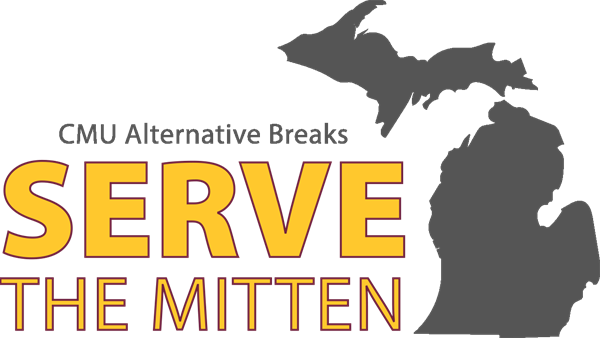 Alternative Weekend Breaks
During an Alternative Weekend Break (AWkB), students travel around Michigan to volunteer with an organization for the weekend. Students leave CMU on a Friday and typically return early Sunday afternoon. The issues and sites for Alternative Weekends are continually changing.
Following sign-ups, site leaders contact participants with further details, including setting up a group meeting before the Alternative Weekend departs. AWkB participants are charged a flat rate of $50, which includes meals, housing, service site fees, van rentals, gas, and a t-shirt.
Be sure to visit the Alternative Breaks Engage Central page to find an AWkB opportunity.