Communication Collaboration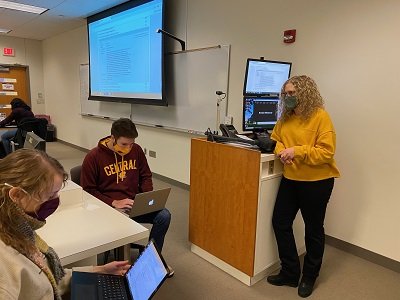 Dr. Natalie Douglas, a professor in the Department of Communication Sciences and Disorders, co-developed a coaching program aimed at improving communication in a nursing home setting. By teaching healthcare professionals the necessary skills to efficiently communicate with each other they will be able to better implement strategies aimed at improving the communication of residents with dementia. Nursing homes are complicated environments with high demands for workers. It can be difficult to form the relationships needed among staff and residents to support care. Dr. Douglas co-developed a six-week coaching program that relies on relationship building and person-centered care to best support the communication of residents with dementia.

Interprofessional collaboration and implementation science are at the forefront of Dr. Douglas' program. Implementation science aims to bring programs that may have success in a controlled setting into the real world through clinical practice in settings such as nursing homes. During the program, a speech-language pathologist (SLP) and a certified nursing assistant (CNA) were paired together in a nursing home facility and tasked with supporting the communication of a resident with dementia. Co-design was vital to the program's success. Instead of giving the CNA a list of communication strategies to implement, the SLP created the list with input from the CNA, acknowledging their expertise and knowledge. The SLP was also encouraged to develop a personal relationship with the CNA, increasing the chances of the strategies actually being implemented to support the resident's communication.

Following the installation of the program, CNAs showed increased positive communication toward the resident including smiling, using the resident's name, and approaching them from the front. The implementation of the program also led to a reduction in negative communication behaviors associated with dementia (yelling, spitting, hitting, etc.). As a result of the program's success, Dr. Douglas was awarded a Researcher-Practitioner Collaboration grant by the American Speech-Language-Hearing Foundation to expand the project across six nursing homes. In doing so, she hopes to continue improving the communication outcomes and quality of life for individuals with communication disorders.
At CMU We Do Research, We Do Real World
Story by ORGS intern Hailey Nelson
April 2022