Provost Faculty Award
The Provost's Award for Outstanding Research and Creative Activity recognizes the achievements of less experienced faculty members. To qualify, one must be a current untenured, tenure-track faculty member. The nominees' research and creative achievements at CMU are considered in the selection process.
2021-2022 Award Recipients
Dr. Michael Conway, College of Medicine
Dr. Michael J. Conway, a faculty member in the College of Medicine, received the 2022 Provost's Award.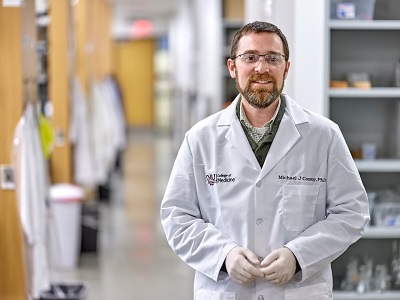 This prestigious award recognizes early to mid-career faculty members who have achieved notable success in research and scholarly activities. Dr. Conway helped develop the early curriculum of CMU's College of Medicine and provides students with cutting-edge research experiences in his laboratory.
Dr. Conway's research is focused on emerging infectious diseases such as mosquito-borne viruses and coronaviruses. His research on virus-vector-host interactions, which focuses on the relationship between the virus and the organisms (vectors) that carry it, revealed novel strategies to interfere with mosquito-borne virus transmission. These studies serve as a precursor to the development of "transmission-blocking" vaccines, which target the vector rather than the virus itself.
With the emergence of the coronavirus in 2019, Dr. Conway's laboratory shifted its focus. After receiving a $1.7 million dollar grant from the Michigan Department of Health and Human Services (MDHHS), the Conway Laboratory and co-investigators developed a SARS-CoV-2 wastewater monitoring program. In tandem with a network of laboratories across the State of Michigan, the team screened wastewater for the coronavirus. This data is then sent to MDHHS and used to inform public health decisions.
Dr. Conway's next project involves collaborating with a regional biotechnology company to develop a technique to rapidly extract microbial DNA and RNA. Whether it's researching mosquito physiology, COVID-19, or developing new biological techniques, Dr. Conway continues to make important contributions to research and public health and is an example of the great work that is performed at CMU. Dr. Conway expresses his gratitude for the 2022 Provost's Award, sharing, "[it] gives me confidence and motivation to continue all of my hard work at CMU…."
Dr. Trevor Diehl, Broadcast & Cinematic Arts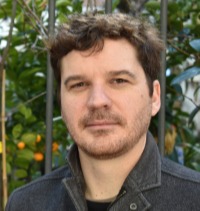 Dr. Trevor Diehl, a professor in the School of Broadcast and Cinematic Arts, received the 2022 Provost's Award. This prestigious award recognizes early to mid-career faculty members who have achieved notable success in research and scholarly activities.
Dr. Diehl's research explores how social media has altered the role of journalism in democratic society. In particular, he is interested in citizen engagement with the news, political participation, and emerging professional practices as they relate to new communication technologies. These interests stem from an overarching concern for the quality of news and public information in today's complicated, networked media environment. Other topics that interest Dr. Diehl include audience fragmentation, global populism, and public opinion about science issues.
Dr. Diehl's most recent project focuses on how people curate their daily information flows, and how those choices impact attention to ideological and partisan media. Along with his co-author at the University of Alabama, Matthew Barnidge, he is developing novel ways to measure attention to news. For example, a current working paper employs both network analysis and survey data to map people's news preferences onto overlapping 'audience niches'. This approach will allow future studies to better understand the influence of audience-level characteristics on one's news selections. This is important, he argues, because much of what we see online today is based not only on our own interests, but also on the interests of others in the audience. That is, the algorithms that filter content are making decisions for us based on the preferences of others in the audience, but we really know very little about how audience characteristics might influence attention to partisan media.
As a teacher, Dr. Diehl is motivated by the belief that students learn best when they pursue their interests, learn from each other, and focus on creating quality content. He hopes that after taking his classes students are more informed as citizens, and maybe even better prepared for jobs in the industry. He teaches courses in media history, multimedia storytelling, and graduate research methods.
Dr. Diehl has worked with an international group of scholars to publish dozens of articles in the fields of political communication and journalism studies. Dr. Diehl expresses his gratitude for the 2022 Provost's Award, sharing, "I am very happy to be recognized by my colleagues in the College of Arts and Media and I feel fortunate to have been able to continue to pursue my research agenda here at CMU."
Stories by ORGS intern Hailey Nelson
February 2022