Program Overview
Turn your passion for dance into a career in performance, choreography, administration, scholarship, film, performance review or teaching. Classes partner technical dance training with administration, composition and teaching methods to provide varying paths for career exploration and employment.
Why This Program & What You'll Learn
As the only dance studies major offered in the state of Michigan, our goal is to train and mentor dance-based performers, critical thinkers, writers, choreographers, production technicians, administrators, educators and scholars.
You'll graduate prepared to contribute to the field of dance in a wide variety of professional careers. While dance technique courses will be a significant portion of your required course work, critical thinking, writing and rigorous scholarly exploration will partner with the physical training to deepen your understanding of dance in a global context.
As a dance studies major, you'll complete an internship in your area of study and minor in business or entrepreneurship to maximize your career opportunities.
You'll learn from faculty with recent experience in major dance productions and initiatives. Our program also regularly hosts guest artists, which exposes students to diverse and emerging trends in dance.
You can put your learning on display in our 500-seat proscenium, Bush Theatre, and/or the 1,200-seat Plachta Auditorium. Plus, you'll have the opportunity to be in two major performances each year — the University Theatre Dance Company spring concert and the Student Choreography Showcase in the fall.
You can even produce, direct and/or choreograph your own productions under the guidance of faculty. This offers a unique opportunity to tailor your academic experience to your career aspirations.
Program Highlights
As a dance student here, you'll:
Have the opportunity to lead dance classes for people with Parkinson's Disease in collaboration with the CMU Physical Therapy Program.
Learn from visiting artists — recently artists from Natya Dance Theatre (classical Indian dance) and Amy Piantaggini (former principal dancer for the Martha Graham Dance Company) have visited.
Produce, direct and/or choreograph productions with guidance from faculty.
Complete an internship as part of your program and earn a minor in business making yourself more marketable as you enter the workforce.
Have the chance to participate in the UT Dance Company spring concert and/or the Student Choreography Showcase in the fall.
Audition to perform in state-of-the-art venues, including Bush Theatre, Plachta Auditorium and more.
Careers & Outcomes
With a degree in dance studies, you can pursue careers in choreography, criticism, teaching, performance, music theatre and more.
| Career | Projected Salary |
| --- | --- |
| Choreographer | $68,532 |
| Entertainer/Performer | $86,620 |
| Art, Drama, and Music Teachers (Postsecondary) | $75,940 |
| Producer and Director | $79,000 |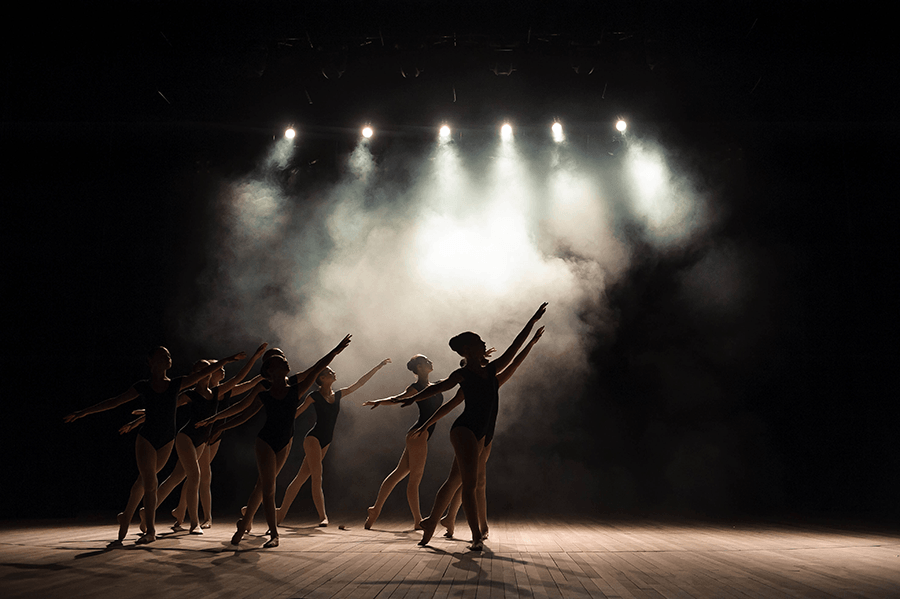 Performing Across the Pacific
Students dance alongside the world-renowned Japanese dance company Masashi Action Machine in Nagoya, performing an innovative style of dance that incorporates gymnastics, jazz and even karate.
Teaching Science with Style
Dance students perform to demonstrate scientific concepts related to cell division, sand dunes and more in a nontraditional, but successful (and active) form of instruction.