Regine C. Beauboeuf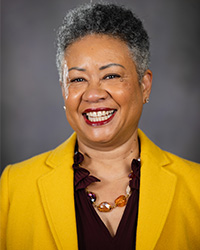 Senior Vice President
HNTB Corporation

Email: beaub1rc@cmich.edu

Term Expires: December 31, 2028
Board Committees:
Audit Committee
Enterprise Risk Committee
Finance and Facilities Committee
Trustees-Student Liaison Committee (chair)
Regine C. Beauboeuf was appointed to the Board of Trustees by Governor Gretchen Whitmer in March 2021 for an eight-year term expiring December 31, 2028. Ms. Beauboeuf is Senior Vice President and Director of Infrastructure and Mobility Equity at HNTB Corporation, an employee-owned infrastructure solutions firm. Ms. Beauboeuf has 37 years of regional transportation and infrastructure experience specializing in the management of large, complex transportation projects. She has extensive experience on Design Build and Public Private Partnership Projects in the US and Canada. She has managed and supervised the Engineering Program for Detroit River International Crossing project (The Gordie Howe Bridge) for the localization of the new border crossing between the cities of Detroit and Windsor in Michigan, USA and Ontario, Canada. Ms. Beauboeuf has served as the project manager for the Turcot Interchange Design/Build, the A-25 Public-Private-Partnership in Montreal, Quebec and the Innovate Mound Project in Macomb County where the County is looking to reconstruct and modernize nine (9) miles of Mound Road from I-696 to M-59 through the Cities of Warren and Sterling Heights. In her current role as director of Infrastructure and Mobility Equity, Ms. Beauboeuf is charged with providing technical expertise and leadership on HNTB's ongoing efforts advancing equity through the organization's existing work, partnerships with minority-owned businesses and collaboration with industry associations.
Prior to her experience in the private sector, Ms. Beauboeuf was the Supervising Engineer for the Project Development Section of the Michigan Department of Transportation (MDOT). In that capacity, Ms. Beauboeuf was responsible for the development and delivery of all capacity improvements and new road projects for the State of Michigan and managed a delivery budget of $3 billion.
Ms. Beauboeuf is a Professional Engineer in the State of Michigan, holds a BS in Architectural/Civil Engineering from the Faculte des Sciences, University of Haiti, and an MBA from Davenport University.