Celebrate Arab American Heritage Month with CMU Libraries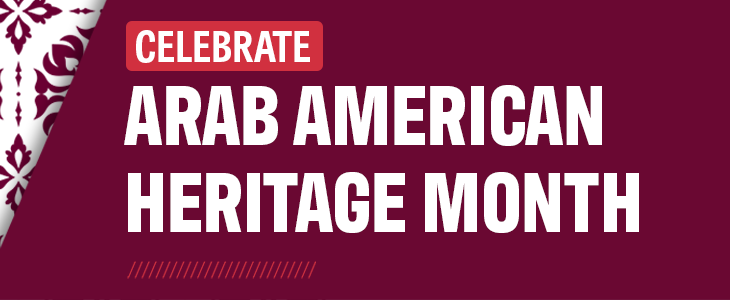 Arab American Heritage Month is a time to celebrate the rich history and culture of Arab Americans, and at Central Michigan University Libraries, we are proud to do our part by highlighting our Arab American Heritage book collection.
This Arab American Heritage Collection features a wide range of books that showcase the diverse experiences and perspectives of Arab Americans. From plays and poetry to novels and nonfiction works, the collection is designed to provide a comprehensive look at Arab American culture and history.
One book that stands out in this collection is Birthright by Palestinian-American Poet, Author and Activist, George Abraham. Through poems of immense emotion, and the use of alluring form, Abraham crafts work that examines what we come to own by existing. According to Dr. Sa'ed Atshan, Author of Queer Palestine and the Empire of Critique, "The journey of reading these words is also a universal one, bringing together conceptions of faith, love, family, settler-colonialism, violence, queerness, and the search for home. Never has poetry pierced through my heart, and touched my soul, as while reading Birthright for the first time."
Another notable book is Against the Loveless World: A Novel by Susan Abulhawa. In this "beautiful...urgent" novel (The New York Times), Nahr, a young Palestinian woman, fights for a better life for her family as she travels as a refugee throughout the Middle East.
At the CMU Libraries, we believe that it is important to provide access to diverse perspectives and experiences, and our Arab American Heritage Month Collection is just one example of our commitment to this goal. We encourage students and faculty to explore this collection and learn more about the rich cultural heritage of Arab Americans.
Blog:
University Libraries
posted | Author:
by Lisa Wilczak
| Categories:
CMU Libraries