Information for Students
Welcome to the Volunteer Center!

There are countless ways to get involved in service at CMU. This page is your guide to navigating how to get started on your volunteer journey.
Step 1 - Check out our programs

The Mary Ellen Brandell Volunteer Center has a wide variety of programs and experiences that fit any schedule and interest. These range from short-term events to week-long service experiences with our nationally ranked Alternative Breaks program. You can find more information about all of these opportunities on our programs page. When you are ready to volunteer, be sure to check our Engage Central page for current volunteer opportunities.

Step 2 - Explore volunteer opportunities on Engage Central

The Volunteer Center is your connection to service experiences at CMU and in the community. To see current volunteer opportunities, check Engage Central. Engage Central is a website used by CMU offices and student organizations to advertise events and help you stay connected. Volunteer opportunities at CMU and in the community will be posted here under the Volunteer Center's Events page and long-term volunteer opportunities are posted in our News page. We also suggest filling out our interest form as a way to get connected to the Volunteer Center's programs and to begin receiving our weekly newsletter. If you have any questions about connecting with volunteer opportunities, please visit us in the Bovee University Center 106, call (989) 774 7685, or email volunteer.center@cmich.edu.

Step 3 - Get connected

Social media

Another great way to stay connected is by following us on Facebook, Twitter​ and Instagram. We post on a daily basis about upcoming opportunities, open applications, and community happenings.
Weekly newsletter

We also send out a weekly email newsletter, which contains a list of service opportunities, information about current events, and resources to help you succeed at CMU. You can join this list by filling out our interest form.
Step 4 - Visit

When you volunteer at CMU, you are not just participating in one program, you are joining a community of passionate, service-minded individuals in the Mary Ellen Brandell Volunteer Center. We are located in the Bovee University Center, room 106 are open year-round from 9 am to 5 pm, and encourage you to visit us. We would love to meet you! This space is not just for staff members and is open to anyone passionate about making an impact in their community. We are here to answer questions about volunteer opportunities, connect you to resources, and talk about ways to make our communities better places for everyone. For another sweet reason to stop in, be sure to grab something from our front desk candy bucket.

Step 5 - Get employed

Employers want volunteer experience

Volunteering is a great way to gain experience and develop skills that complement your classroom learning at CMU. Additionally, employers are looking for new hires that care about their work and larger social contexts and issues. Often, volunteer supervisors serve as references and some experiences even turn into internships or new career path.

For help with resume creation, interviewing techniques, and job search resources, visit our friends in Career Development Center.

Logging your hours

In preparation for your upcoming job or graduate school search, you can log your volunteer experiences to your co-curricular transcript on Engage Central. Just as your transcript documents your academic successes, your co-curricular transcript documents your co-curricular experiences and learning opportunities. This document can also be used to verify volunteer hours. If you swipe into an event, or are part of a program run by the Volunteer Center, your hours are automatically logged. If you are volunteering with a program outside our office, or with a non-profit in the community, you will need to log your hours yourself. Follow the easy steps below to log your hours in Engage Central:

1. Go to Engage Central
2. Click the circle with your name on it, in the top right corner
3. In the menu just opened, scroll down and click "service hours"
4. Click "add service hours" in the blue box, in the top right corner
5. Select the Mary Ellen Brandell Volunteer Center as your organization.
6. For verification contact, type volunteer.center@cmich.edu
7. All fields must be completed.
8. Click "create".
For students learning remotely
Volunteering can be a great way to get involved in the community, increase social issue awareness, and meet new people!

How to get involved in your local community
Even if you live off-campus, or a thousand+ miles away from CMU's Mount Pleasant campus, we are committed to connecting ALL Central Michigan University students to volunteering with their area community organizations. Below are a few websites dedicated to identifying volunteer opportunities.
If you would like more assistance in finding volunteer opportunities outside of the Mount Pleasant area please feel free to email the Mary Ellen Brandell Volunteer Center at volunteer.center@cmich.edu.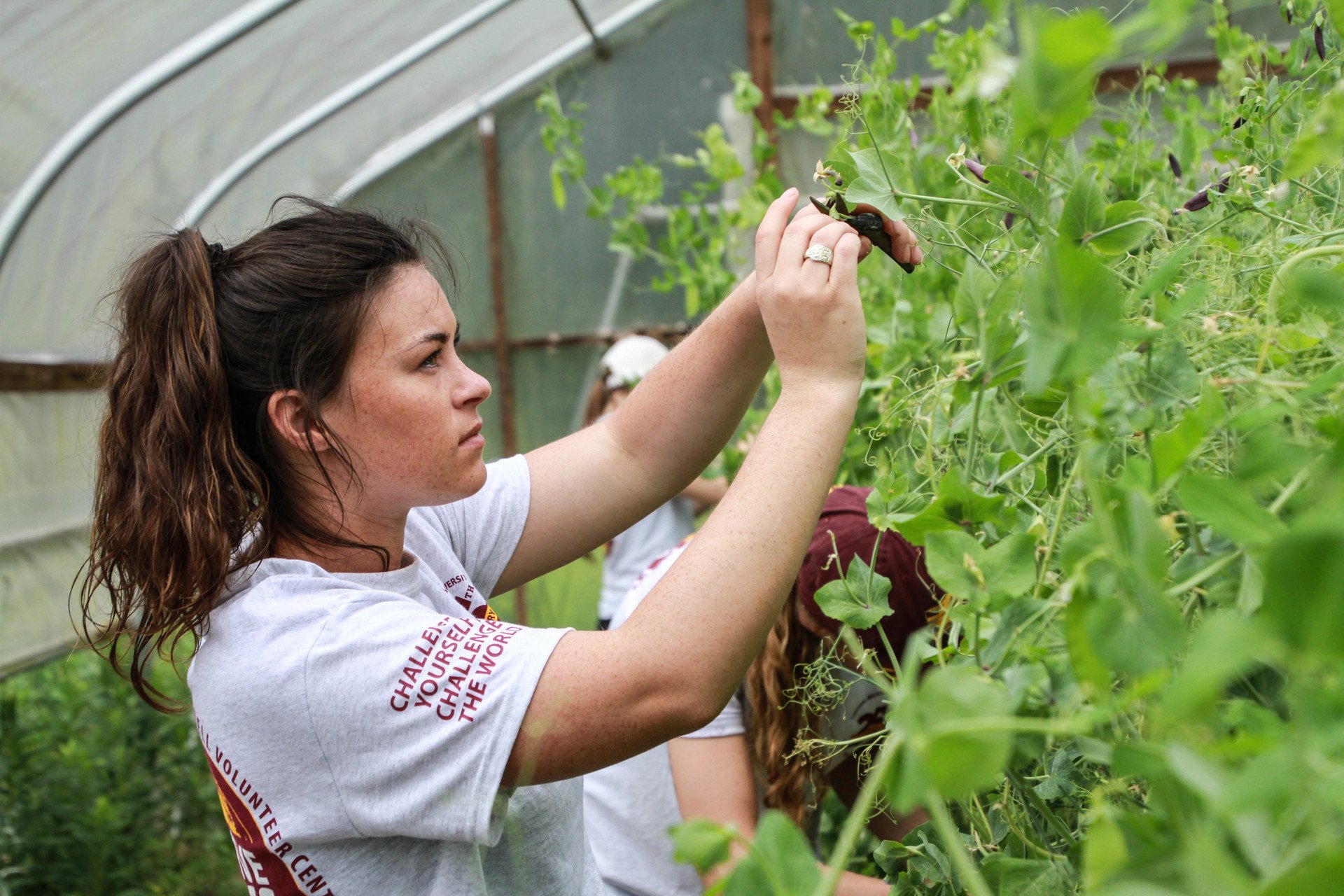 Engage
Get started today!
Take the first step of your volunteer journey today by signing up for one of hundreds of service opportunities in Engage Central.