Attention Audio Dramatists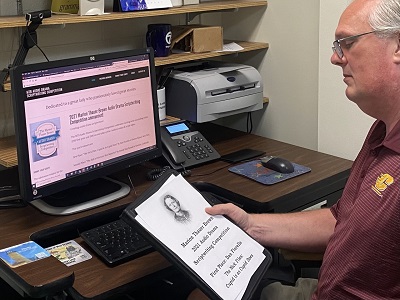 Broadcast and Cinematic Arts professor Dr. Will Anderson uses his writing expertise and passion to run a nationally recognized audio drama competition. For the past nine years, the Marion Thauer Brown (MTB) Audio Drama Scriptwriting Competition has helped promote and recognize the work of audio dramatists from around the world. In doing so, Dr. Anderson, creator and administrator of the MTB Competition, brings attention to the forgotten art form and makes a lasting impact on the world of audio dramas.
Dr. Anderson created the MTB Competition to give back to the audio drama community, sharing "I was fortunate enough to win several national audio drama scriptwriting competitions that really helped me get tenure at CMU, so I wanted to give something back to help support other audio drama writers and encourage growth of the genre." As a result, Dr. Anderson launched the MTB Scriptwriting Competition in 2013 in memory of his grandmother, Marion Thauer Brown, whose stories of the golden age of radio drama fueled his passion for the genre at a young age. The year after it was launched, the MTB competition became the official scriptwriting competition for the National Audio Theatres Festival organization, the largest organization in America for audio drama producers and practitioners.
As the competition's administrator, Dr. Anderson is responsible for screening through entries to assure that all works submitted are original and abide by the family-friendly requirements. Dr. Anderson hopes that by fostering the development of broadcast acceptable pieces, more people can be impacted by the magic of audio dramas the way he once was.

Throughout the competition's nine years, Dr. Anderson's goal has remained the same: encourage audio drama growth by highlighting the works of audio dramatists all over the world. The international aspect of the MTB competition continues to grow, with this year's competition receiving entries from seven different countries! In addition to encouraging international submissions, the MTB Scriptwriting Competition welcomes writers of all experience levels. Past winners have ranged from amateurs to field professionals. Dr. Anderson shares, "at the end of the day, it all comes down to being able to tell an engaging and enjoyable story".
At CMU We Do Creative, We Do Real World
Story by ORGS intern Hailey Nelson
November 2021