Counting Carbon
Dr. Tao Zheng, a faculty member in the Department of Geography and Environmental Studies, is developing a method for tracking carbon dioxide emissions. Dr. Zheng is interested in tracking carbon dioxide because it is a greenhouse gas. Greenhouse gases accumulate in the Earth's atmosphere and trap heat to create a livable temperature. However, an excess of greenhouse gases can have negative effects on the environment, such as climate change and global warming.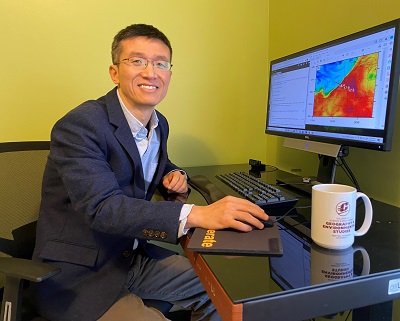 Dr. Zheng received a grant from NASA to investigate the man-made and naturally occurring sources for carbon dioxide over North and South America. To efficiently track carbon emissions, he proposes using an atmospheric modeling system and satellite observations. An atmospheric modeling system is a set of complex computer codes that simulate the governing physics of certain atmospheric processes, such as radiation. The satellite observations provide information on the amount of carbon dioxide in the atmosphere while the atmospheric modeling system links the carbon dioxide to their sources. Dr. Zheng runs the simulation on the High Performance Computers at Michigan State University and NASA.

While still in the early stages, Dr. Zheng expects the project will finish in three years. Information collected from the atmospheric models and the satellite observations will be combined using sophisticated numerical methods. The findings from this research will provide scientific support for implementing carbon emission regulations aimed at reducing climate change.
At CMU We Do Research, We Do Real World
Story by ORGS intern Hailey Nelson
April 2022