Expert on Edgar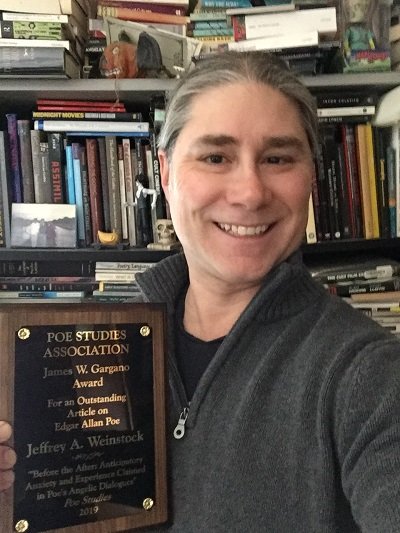 English professor Jeffrey Weinstock won the James W. Gargano Award by the Poe Studies Association for his outstanding article on Edgar Allan Poe. The James W. Gargano Award is given annually for the best article on Edgar Allan Poe published in the preceding year. Dr. Weinstock's article, "Before and After: Anticipatory Anxiety and Experience Claimed in Poe's Angelic Dialogues," was the award winner for 2019.
Dr. Weinstock's essay looks at the trauma exhibited in Poe's three "angelic dialogues" or "colloquies"—"The Conversation of Eiros and Charmion" (1839), "The Colloquy of Monos and Una" (1841), and "The Power of Words" (1845). Dr. Weinstock argues that Poe's angelic dialogues have the potential to elicit Pre-Traumatic Stress Syndrome —anticipatory fear and anxiety created by narratives set in a post-apocalyptic or dystopian future. Dr. Weinstock expressed his gratitude for the award: "...the people selecting the winner are experts on Poe and the scholarship related to him. These folks know their stuff, so to have my essay selected for the award is extremely meaningful!"
Along with being an English professor at CMU, Dr. Weinstock is also the associate editor for The Journal of the Fantastic in the Arts. He has published 24 books and more than 80 essays and book chapters that address the Gothic, American literature and American popular culture. Dr. Weinstock's interest in the Gothic stems from his enjoyment of spooky stories, including those by Poe, at a young age. In graduate school, his doctoral dissertation focused on ghost stories by nineteenth-century American women--Dr. Weinstock's research has revolved around the Gothic ever since!
At CMU, we do research and real-world results.
Story by ORGS intern Hailey Nelson
February 2021