Planting Potential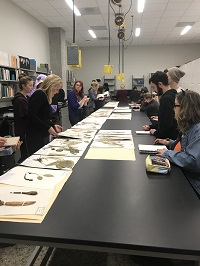 Dr. Anna Monfils, a faculty member in the Department of Biology, was honored by The American Society of Plant Taxonomists (ASPT) with the 2021 Engagement and Excellence in Plant Systematics Education Award. This award honors faculty who go above and beyond to create innovative resources for engaging students in plant systematics. Plant systematics is an area of study that examines the biological diversity of plants and the relationships between plants and evolution, something about which Dr. Monfils is passionate.
Dr. Monfils found her passion for plants while studying biology as an undergraduate student. During this time, she took several botany courses which motivated her to pursue a PhD in Plant Biology and Ecology, Evolution, and Behavioral Biology from Michigan State University. She shares, "I love the logic of science and plants are wonderfully elegant in how they function. When you learn about plants, their shape, function, and biology works together and makes intuitive sense ...that is why I love teaching about plants." The study of plants, as Dr. Monfils explains, relies on various tools and methods across biology. For example, analyzing plant DNA requires the use of labs and molecular equipment. Combining her passions for learning and teaching about plants, Dr. Monfils became a professor.
When teaching, Dr. Monfils leads from a place of compassion, sharing,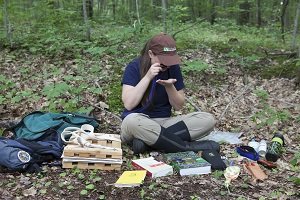 "The students are here and they do care… and right now is so hard on students." To give students the tools to learn and succeed in such unpredictable times, Dr. Monfils tries to be as flexible and organized as possible. She also recognizes how different students are and emphasizes the importance of presenting multiple entry-points into science and multiple avenues to apply it. This semester, Dr. Monfils is teaching many students who are not Biology majors. With this in mind, she develops lesson plans around biology-related topics that would interest them. For example, she had students research the evolutionary relationship between bats and agave, the plant used to make tequila.
Along with teaching, Dr. Monfils serves as the Director of the CMU Herbarium, a natural history collection located in the Biosciences building. Here, plant specimens are brought in, pressed, and preserved for future research. These specimens are available to be used throughout CMU by faculty and staff for various research and teaching endeavors. Much of Dr. Monfils' own research, such as her research regarding issues with the conservation and management of the Great Lakes ecosystems, relies on data from the Herbarium. Additionally, information from the Herbarium can be accessed globally and provide researchers around the world with valuable insight into factors of plant systematics.
Story by ORGS intern Hailey Nelson

November 2021