Power of History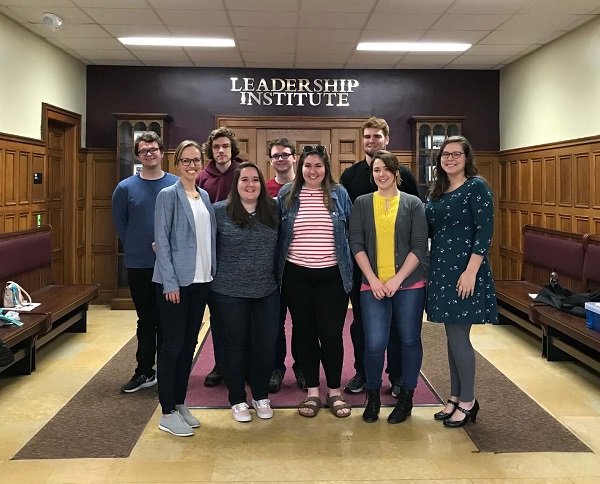 History professor Brittany Fremion researches one of the largest chemical disasters in U.S. history. The Michigan PBB (polybrominated biphenyl) Oral History Project, funded by the National Institute of Environmental Health Sciences of the National Institutes of Health, documents the history of the PBB mix-up through a series of audio-recorded interviews with community members. The oral histories will be donated to CMU's Museum of Cultural and Natural History for long-term preservation. Dr. Fremion and her team have now interviewed 68 participants, collected more than 70 hours of audio, and created nearly 2,000 pages of transcriptions. The project is a collaborative endeavor inspired by community members and researchers at Emory University and the University of Michigan.

In 1973 a dairy farmer in southwestern Michigan noticed something wrong with his herd. Milk production plummeted and his heifers exhibited strange health problems, such as watery eyes, patchy skin and loss of appetite. Some of his calves died and cows aborted. The farmer discovered the cause of his herd's ailments: a fire retardant, polybrominated biphenyl (PBB), had accidentally been added to his livestock feed at a coop owned by Farm Bureau Services. Simultaneously, other farmers across the state noticed similar problems with their livestock. Chickens developed tremors and lambs were born with physical deformities. The farm families—men, women, and children—also started to notice changes in their own health. So had the residents of St. Louis, Michigan, and workers at Michigan Chemical Company, situated on the Pine River. The chemical plant manufactured PBB and a nutritional supplement for cows, magnesium oxide. Dr. Fremion explains that the tragedy unfolded when Michigan Chemical Company accidentally shipped PBB instead of the nutritional supplement; thereafter, it entered the human food chain via farm products—eggs, pork, poultry, beef and dairy goods—exposing millions of people.
PBB oral histories reveal the personal and often painful memories of farm families, St. Louis residents, chemical workers, consumers, researchers, activists and public officials. In doing so, they grow the historical record and inform environmental health research, as well as inspire action to address contamination. For instance in spring 2019 project, collaborators hosted a legislative event to share the lessons learned from the PBB accident and ongoing community needs to inform state efforts to respond to PFAS (Per- and polyfluoroalkyl substances) contamination. In February 2020 the project team also organized the From PBB to PFAS Symposium at the University of Michigan to bring together community members and researchers to address large-scale chemical contaminations in the state.
After interviewing concludes, PBB Oral History Project materials will be preserved at the Museum of Cultural and Natural History. Additional research collections related to the accident may also be found at the Clarke Historical Library at CMU.
At CMU, we do research and real-w
orld results.
Story by ORGS intern Hailey Nelson
March 2021