Reinventing Research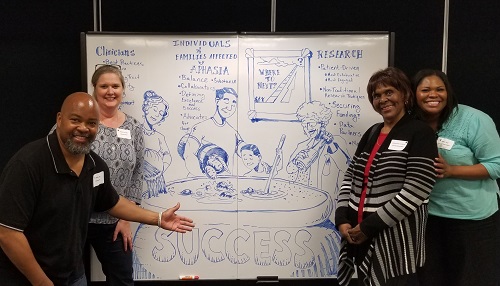 Dr. Katie Strong, a faculty member in the Department of Communication Sciences and Disorders, researches the Life Participation Approach to Aphasia (LPAA), an evidence-based therapy that supports the goals of those living with aphasia and other communication disorders. Aphasia is a language disorder, commonly caused by a stroke, that impacts a person's ability to use, and understand, language. As a result, those with aphasia are at risk for isolation, losing friends, and having a reduced quality of life.

To improve the quality of life of those living with aphasia, Dr. Strong looks to the LPAA. This approach puts the concerns of those affected by aphasia at the center of all decision-making. Those living with aphasia are just as involved in their recovery as the clinicians and speech-language pathologists. Collaboration is essential when designing the intervention plans aimed at helping people with aphasia return to an active life. Intervention may also involve changing broader social systems to make them more accessible to those affected by aphasia (such as advocating for lifelong insurance coverage rather than coverage limited to the date of the injury). In doing so, the LPAA supports the goals of those living with aphasia and, thus, aids in improving their quality of life.

Dr. Strong partnered with Dr. Jackie Hinkley of Nova Southeastern University through the Building a Bigger Bridge grant from the Patient-Centered Outcomes Research Institute to continue her research on improving the quality of life for those living with aphasia. The grant was used to establish a Midwest Regional Center for Project BRIDGE (Building Research Initiatives by Developing Group Effort), a research initiative that emphasizes multi-stakeholder research. There are currently four locations in the U.S., including the one at Central Michigan University. Each of these centers serves as a connection point to help recruit and train new research team members (people with communication disorders, their families and friends, clinicians, and researchers).

Dr. Strong first became involved in Project BRIDGE in 2018 after attending a conference that centered around stakeholder research, sharing, "It was life-changing". Stakeholder research allows for researchers to get input from people living with aphasia. At the Midwest Regional Center, stakeholders were recruited and paired with a research team. According to Dr. Strong, multi-stakeholder research "is a game-changer". Researchers are no longer in the lab assuming what would benefit people with communication disorders. Instead, they are working directly with those stakeholders to create richer research outcomes.

In helping launch the Midwest Regional Center for Project Bridge, Dr. Strong creates a community where all stakeholders are involved in research, empowered by the process, and valued for their expertise.
At CMU We Do Research, We Do Real World
Story by ORGS intern Hailey Nelson
May 2022