Strengthening Socialization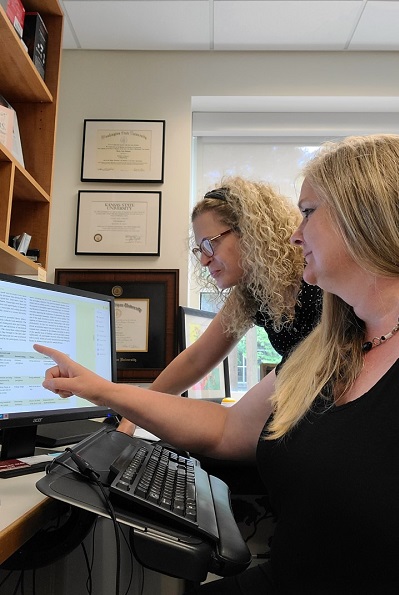 Dr. Katie Strong and Dr. Natalie Douglas, faculty members in CMU's Department of Communication Sciences and Disorders and Tavistock Trust for Aphasia Distinguished Scholars, propose a research agenda to improve the social well-being of people living with aphasia. Aphasia is a language disorder caused by brain injury that affects a person's ability to communicate, often leading to social isolation and loneliness. The goal of the team's research agenda is to develop tools that can be used by speech-language pathologists to support and foster patient socialization through maintaining existing friendships.
Prior research suggests that people who maintain regular contact with friends outside of their family tend to lead healthier and happier lives than those who do not. However, with the verbal and written language being at the core of human interaction, those affected by aphasia are at a social disadvantage, making it harder for them to maintain friendships and avoid loneliness. To help clinicians foster the social wellbeing of people living with aphasia, Dr. Strong and Dr. Douglas are part of an international team of researchers that aims to prevent the loss of existing friendship networks in people living with aphasia.

Their research proposes variables that may influence the creation, maintenance, or dissolution of friendships, the role of the caregivers and speech-language pathologists in supporting friendships, and the outcome of existing friendship intervention programs. The team emphasizes the importance of taking a relationship-centered approach to caring for people with aphasia, explaining, "It is not reasonable to assume a one-size-fits-all approach.... researchers must be careful not to medicalize friendship through prescriptive interventions."
Dr. Strong and Dr. Douglas believe that by taking an individualized approach to encourage people to maintain friendships after aphasia, those affected will reap profound socialization benefits and have an overall improved quality of life.

At CMU We Do Research, We Do Real World
Story by ORGS intern Hailey Nelson
July 2021