Monitoring Muskrats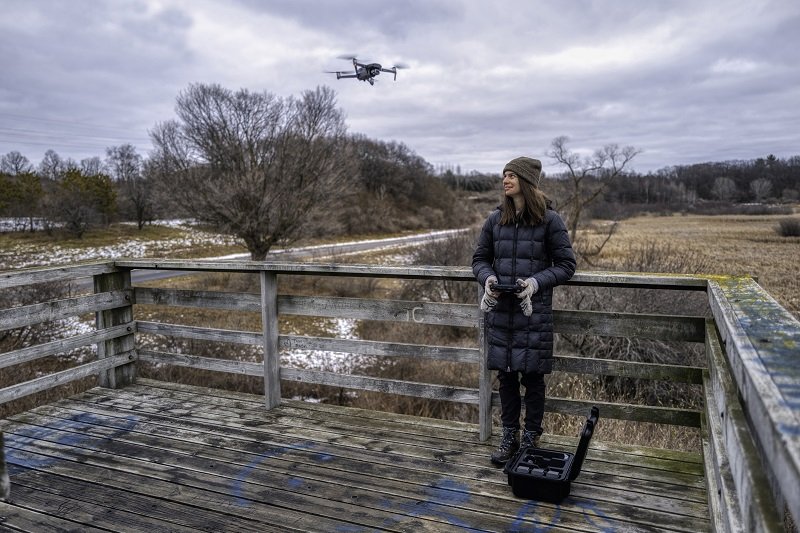 Kylie McElrath, a graduate student studying Conservation Biology, researches the nationwide decline in muskrat (Ondatra zibethicus) populations by surveying the coastal wetlands of Michigan's Lower Peninsula. Muskrats play a vital role in the health of the wetlands by acting as ecosystem engineers, organisms that change the availability of resources within an environment. Many wetland inhabitants, such as marsh birds, rely on muskrats to modify vegetation density, allowing marsh birds to nest, travel, and hunt with more ease. With muskrats acting as ecosystem engineers, researchers have become concerned by the recent decline in muskrat populations and fear it will negatively affect other wetland species. McElrath took to Michigan's Lower Peninsula to analyze the factors that influence the abundance of muskrats.
To assess muskrat abundance in wetlands with varying environmental factors, McElrath surveyed nine coastal wetlands among three different coastal regions of Michigan's Lower Peninsula: Lakes Michigan, Huron, and Erie. Using drone aerial imagery, McElrath was able to count the number of muskrat mounds in the surveyed areas. Mounds house on average three to four muskrats and are built using surrounding vegetation such as cattails. From an aerial view, these mounds appear as "bull's-eyes", which McElrath could easily identify and use to estimate muskrat abundance. Once McElrath identified the mounds, she used pre-existing data about the wetland type, surrounding forest and urban land cover, and the ratio of vegetation to open water to better understand how environmental variables impact muskrat abundance.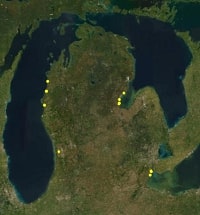 Having completed the fieldwork in the spring of 2021, McElrath is now in the data analysis stage of her research. Her expected results suggest 1.) wetlands with greater surrounding forest cover will show greater muskrat abundance; 2.) wetlands with greater surrounding urban cover will show lower muskrat abundance; 3.) wetlands with less vegetation and more open water would show lower muskrat abundance; 4.) increased Great Lakes water levels will result in a decrease in muskrat abundance. McElrath's data analysis will provide more insight into these outcomes. Once the analysis is completed, McElrath will include her findings in her thesis in hopes of aiding future research on the abundance of muskrats.

McElrath started her undergraduate career as a meteorology student and later switched to pursue her passion for wildlife biology with the help of advisor Dr. Thomas Gehring. After enjoying her experience as an undergraduate at CMU, McElrath decided to come back for her Master's degree in Conservation Biology. "I really enjoyed the program at CMU because the classes are very field-based...and because I had such a good experience with the program... it sort of all fell into place and I was very excited to come back", McElrath shares. Upon completing her studies in Conservation Biology, McElrath hopes to apply her knowledge and passion for wildlife biology to the U.S. National Park Service, sharing "I think it would be a good fit for me... I could help educate the public about wildlife and also conduct research."
At CMU We Do Research, We Do Real World
Story by ORGS intern Hailey Nelson
October 2021