Prioritizing Patients
Misty Hauser, a Doctor of Health Administration student, explores the relationship between patient outcomes and accrediting agencies in stroke centers throughout Texas. Accrediting agencies are responsible for enforcing standards across healthcare facilities in the U.S. and can lead to improvements in care quality. However, these standards differ amongst agencies. Curious to learn how this affects performance over time, Misty uses data from various stroke centers in Texas to study the relationship between accrediting agencies and patient outcomes.
Healthcare facilities in the U.S. must be accredited to participate in federal and state reimbursement programs. Once a facility chooses an agency to partner with, accrediting professionals will conduct on-site surveys to evaluate the patients' experiences, and train staff on any performance improvement initiatives they see fit. These initiatives reflect the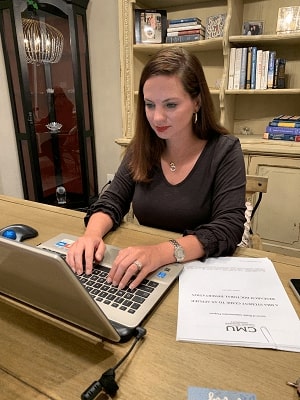 standards upheld by the specific agency. In Texas, Hauser found two agencies that were most commonly used: The Joint Commission (TJC) and Det Norske Veritas (DNV). Hauser uses Hospital Compare, a website that measures patients' experiences at various institutions, to compare patient outcome reports and determine if there were any differences in outcomes over time between institutions accredited by TJC and institutions accredited by DNV.
Hauser will utilize the patient outcome reports from 16 comprehensive stroke centers in the four largest metropolitan areas in Texas. Of these facilities, 13 were accredited by
TJC and three were accredited by DNV. To better understand how accrediting standards impact patients, Hauser focuses her attention on patient readmissions and mortality rates within 30 days of discharge. With this data, Hauser compares the average rate of readmission and mortality for the TJC and DNV accredited facilities, and uses it to identify any statistically significant difference in performance between the two accrediting agencies.
Healthcare accreditation is vital in ensuring quality care of patients seeking help. Hauser hopes that her results will provide valuable insight into the differences in patient outcomes based on a facility's accrediting agency.
At CMU, we do research and real-world results.
Story by ORGS intern Hailey Nelson
September 2021