Small Business, Big Dreams
Entrepreneurship graduate student, Brittni Abiolu, sells her company and acquires a 9% equity stake in tech startup BomaLink, an online professional networking and career development platform for people of African descent. Abiolu originally founded an online media company, Small Business Brain, to help freelancers and entrepreneurs build and sustain their startups. BomaLink, a company with similar goals, bought Abiolu's company to leverage the success of both ventures.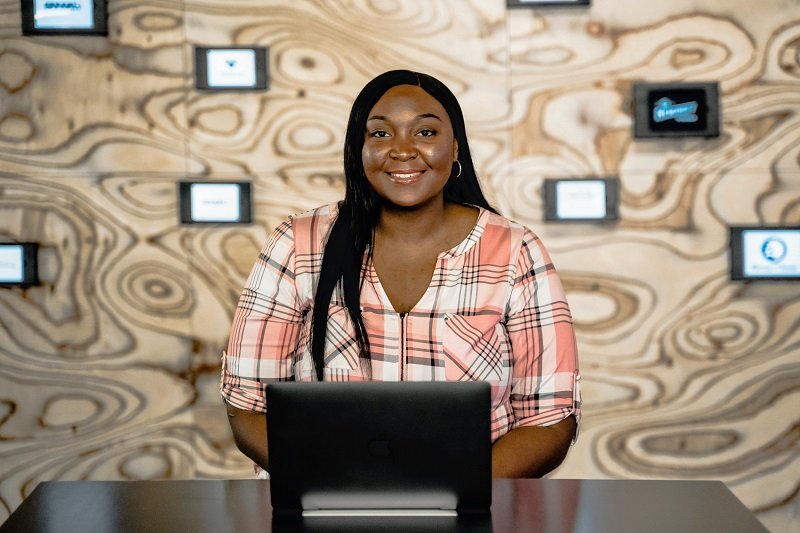 Abiolu's strong background in business development, digital marketing, and web development is rooted in her 15 years of experiences at CDK Global, Accenture, Campbell Ewald and as a freelance consultant. Before starting her Master of Entrepreneurial Ventures in 2018, Abiolu developed Small Business Brain where she provided services to various startups, including BomaLink.
What started out as digital marketing consulting turned into a significant role in the company. Shola Salako, founder of BomaLink, recruited Abiolu onto the team as Co-Founder and Chief Marketing Officer. Her background and skills in business development sprung her into another promotion as Chief Business Development Officer. During this time, Abiolu and Salako recognized the value in merging their two tech driven companies, so BomaLink acquired Small Business Brain.
In addition to her MEV coursework, Abiolu continues to develop BomaLink. With the help of Entrepreneurship Chairperson Jeff Thomas and Professor Joseph Green, Abiolu connected with a top venture capital firm that will help BomaLink acquire seed capital, which is necessary funding in the early stages of a company. BomaLink envisions fast growth, an acquisition by a larger company in the industry, or an initial public offering, which would allow individuals to purchase shares in their company, in the next 5 to 10 years.
Either way, Abiolu has dreams of becoming an accredited angel investor, someone who provides capital for startups, and philanthropist that gives back to the community through financially supporting entrepreneurial and art related initiatives in communities around the world.
At CMU We Do Research, We Do Real World
Story by ORGS intern Brittney Rudat
May 2021