Schedule of Events
Now starring...YOU! Get in the CMU spirit as we celebrate Homecoming Week and roll out the maroon carpet with this year's theme: Hollywood! Check out all the events below.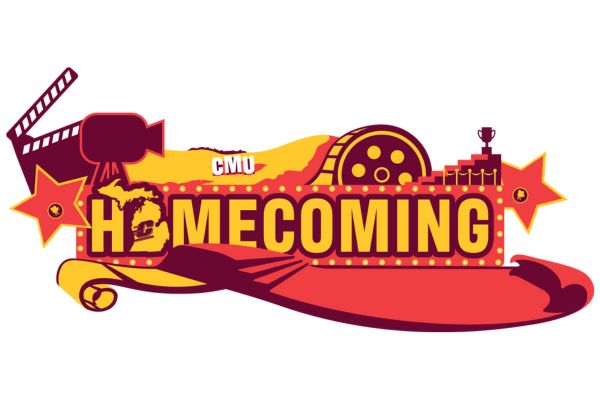 Annual Medallion Hunt On-Campus/Virtual
Tradition begins again! Clues will be given daily on the Office of Student Activities & Involvement Facebook page and Instagram to unlock the Gold CMU Seal Homecoming Medallion from the vault.
Homecoming Kickoff 5:00-8:00 p.m. Finch Lot 18
Let's have some and start Homecoming Week off right! Join us in Lot 18 for a fun 'Red Carpet" experience with inflatables, food, face painting and fun!
Movie Night: The Breakfast Club, 8:00 p.m. Kelly/Shorts Stadium
Can you smell it? It's buttery in the air! Journey through the decades and celebrate homecoming with a showing of The Breakfast Club. Bring a blanket and a friend! Rain Location: Pearce 127
Hollywood Homecoming Music Trivia Night 7:00-8:00 p.m. Biosciences 1010
Think you and your team know it all? Think you can beat the other teams? Put your knowledge to the test in this multi-category trivia night. Teams will be 4-7 students and you will compete for the top prizes!
Cornhole Tournament 7:00-8:00 p.m. SAC Mac Gym 2
Are you up for the challenge of cornhole? Do you think your team can come out on top? Make your way to the Small Sports Forum to see if you can earn points towards to Maroon Cup, Greek Cup or Golden Goblet and become the top team!
Battleship 8:00-9:30 p.m. SAC Pool
We ready for a 'sinking' good time! Sign up with your team today to compete in Battleship in the SAC Pool and see if you can your team can sink your opponents.
Fire Up Fridays! Spirit Day!
Wear your favorite CMU shirts/sweatshirt
Rock Rally 7:00 p.m. Plachta Auditorium
Rock Rally is the final event of CMU Homecoming Spirit Week and one of the most spirited and high energy events held on campus. This awesome lip-sync competition is where your peers compete in groups on a stage for the coveted of "Tony Voisin" Maroon Cup Trophy along with finding out who will be our Gold Ambassador for 2023!
Greek Showcase 8:30 p.m. Finch Fieldhouse
Who ran the yard and who still runs the yard? CMU NPHC presents the 2023 Homecoming Greek Showcase! Come watch and support both our NPHC and MGC orgs showcase their stepping skills. This is a show you don't want to miss to see if old school still got it or if new school is just too good!
CMU Homecoming 5K Run/Walk benefiting Special Olympics–Michigan,8:00 a.m. – Finch Fieldhouse
Join over 400 participants in a run/walk throughout our beautiful campus that will help to support children and adults in year-round sports training and athletic competition for persons with intellectual disabilities.
Homecoming Parade, 11:00 a.m.
The Homecoming Parade is an annual tradition that unites students, alumni, faculty, staff, and community members across the Mt. Pleasant community. With CMU 'Marching Chips', floats and guests of honor riding corvettes to student organizations, community organizations, CMU spirit load and proud.
Homecoming Football Game – CMU vs. Akron
Kick-off 3:30 p.m.
Come cheer on YOUR CMU Chippewas! Remember, entry to Kelly/Shorts Stadium -student section is FREE with your CMU ID card.