Balancing a full-time job and earning your degree
Juggling a full-time job and pursuing a college degree is no small feat. It can be done if you're determined to upgrade your professional skills. Your first step is to know the difficulties and how to avoid them. Let's discover how you can successfully merge the demands of studies, employment and home life.
Central Michigan University offers flexible, online options so you can tailor your education to your needs.
Explore CMU Online
Key takeaways
Balance earning your degree and fulfilling job responsibilities with strategic planning, digital tools and good communication.
Rank your tasks, build in self-care and connect with a strong support system to help balance work and school.
Consider all your options when it comes to choosing your preferred style of learning.
The reality of being a student with a full-time job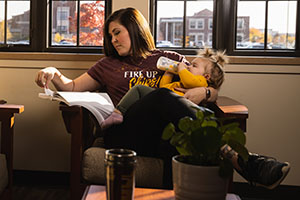 Engaging in the dual roles of a full-time job and being a student can bring many exciting benefits. It gives you the chance to strengthen your time management skills, move up financially and cultivate new abilities. Many people just like you have proven that this goal is achievable with consistent effort, careful planning and efficient communication strategies.
Time management challenges
As a student employed in a full-time job, you need commitment and a well-structured plan. Use your time wisely. Use your lunch or shorter break times to finish assignments or review material. Many working students have found the Pomodoro method helps them stay focused and on task.
Basically, the Pomodoro Technique has you choose a task, like writing the outline for a paper. You set a timer for 25 minutes and focus on the task. When the timer goes off, you take a well-earned 5-minute break. Then come back to the task for another timed 25 minutes followed by another 5-minute break.
Every four sets of work and break, take a longer 30-minute break. You'll learn how to break down assignments into workable chunks and stay focused on getting the job done.
Financial benefits
Earning a degree while working full-time can help you limit your student debt. This means less worrying about loan repayments, managing living expenses more efficiently and ultimately giving you a better quality of life. The more you support yourself, the fewer debts you'll have.
Of course, you should still fill out a Free Application for Federal Student Aid (FAFSA) every year. Federal student Aid ties this form to many grants and scholarships. You could still qualify for some tuition aid even while working full time and taking online courses.
Skill development and networking opportunities
Earning your degree while working full time can be immensely beneficial to you and your employer. Your new skills could earn you a pay raise. And your employer will benefit from the new skill sets you'll bring to your workplace.
As you interact with your classmates, you'll make valuable connections in the professional world. Every class helps you discover new contacts, build professional networks outside your work and improve your chances in the job market.
Working learners also have an incredible opportunity for discipline growth. You'll increase your abilities to complete tasks under pressure. You'll learn to take responsibility for deadlines and how to create a focused, structured environment.
These are all traits that help with academic performance yet ultimately prepare you for what lies ahead beyond graduation day.
Tips for success in balancing work and school
Having the right strategies and resources can make balancing work and school an achievable goal. Do you know how to organize tasks according to importance, utilize technology for greater productivity, and communicate with professors or employers? These tips are essential for good time management. They also alleviate stress levels which leads to better overall outcomes while managing work-school commitments.
Prioritizing tasks and goals
For better time management and sustaining concentration on your goals, assignments, and objectives, task ranking is essential. Understanding which tasks require the most effort can guide you when allocating energy into different areas.
Many students find that making a timeline with everything included in it is an excellent organization tool. A family calendar with working hours, class times, errands that need to be done and who should do them can help. You can use a chart or one of several time management apps on your phone.
Once you chart what has to be done, you can start to find time for studying. Remember short, timed segments with regular short breaks help you stay on task and use your time most effectively.
Trying to power through can lead to burnout. You're working toward a well-balanced lifestyle. You don't want to end up frustrated and feeling overwhelmed.
Utilizing technology and productivity tools
Technology and productivity tools are valuable assets for students who work full time. There are many online platforms available that may fit your needs. Several popular tools, like Trello, Todoist, and Asana even offer free versions.
In your work, you've probably used communication apps such as Slack, Teams or Zoom. These are also easy ways to stay in touch with classmates. Evernote/OneNote note-taking services along with cloud storage solutions (Google Drive etc.) can help you share documents with classmates.
Talk with your fellow students about apps they use to stay organized. You're sure to get some great advice from others who are studying part-time and working full-time.
Communication with employers and professors
Open discussion of job/school dynamics ensures an efficient path for successfully juggling both responsibilities. Keep your boss up to date on any timetabling issues or potential problems. This provides them with the understanding needed to meet accommodation requests.
Regular contact with professors can help you access essential assistance in meeting deadlines while managing outside commitments at the same time. Choosing a degree program that recognizes your need for flexibility is a must.
Online learning and flexible degree programs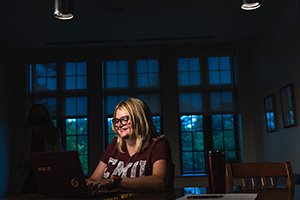 Full-time work and online degrees are the perfect partners. You have the convenience of studying remotely and often at your own pace. You can manage your academic commitments alongside your work schedule and family obligations while striving towards your long term goals.
It's important to take the time to research available online degrees in order find a program that works for you. There are plenty to choose from. According to Forbes.com, in 2021, about 60% of all college students in the U.S. took some online courses. Around 30% studied exclusively online.
The rise of online education
Online learning is having a major impact on the way working students learn and access higher degrees. Colleges often specifically design online programs for working adults.
Classes are often asynchronous. This means you don't have a set class time each week. You work at your own pace, meeting your due dates and taking tests as you go along. Online courses make being a working student and earning a degree even more accessible.
Finding the right online degree program
Selecting the perfect online degree program is a key part of managing both study and work obligations successfully. This involves looking into various alternatives, considering your individual targets and requirements, as well as examining factors such as:
Accreditation – Is the college or university accredited?
Flexibility – Can you work at your own pace or do you meet virtually on a schedule?
Support services – Do they provide technical support and support for your well-being?
Quality and reputation of course content – Will your degree be worth the money?
Cost – Are there financial aid opportunities available to you?
Number of credits required for graduation – How long will it take you?
Technology you'll need – Is your completer up to the job?
An active alumni network – Are they available with advice and mentorship?
Another cost and time saving option is prior learning credit. With this option, you earn college credits for recent learning experiences and life activities that relate to your degree. You can save thousands of dollars in tuition costs and months of your time if you qualify.
You may be able to earn credits toward your program if you've had on-the-job training, attended business seminars and workshops or had other college-level experiences in your life. Be sure to ask any college you are considering if they have this type of program. It could be well worth your effort.
Benefits of flexible degree programs
You'll find numerous advantages with flexible degree programs. With many you control how quickly you work through the material.
With asynchronous classes, you work at your own pace in your own space. You can study in your pajamas at midnight or learn new material on your lunch hour. You study and take tests and quizzes along the way to make sure you understand the concepts.
Other programs have you meet online with your class at a set time. Your instructor then works with everyone together on new topics. If you prefer more structure in your classes, look for these synchronous courses.
Whichever you choose, you'll find you have more control over when and where you study. This allows you more flexibility to adjust your studies to fit around personal commitments and responsibilities.
Maintaining mental health and well-being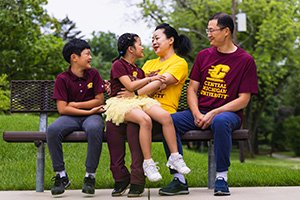 It is essential to take care of your mental health and well-being while balancing work and school. You'll need to create healthy boundaries, take proactive steps for stress relief, stay positive and allow yourself time to relax.
You must also expand your support network with family/friends. Include people who fully understand your workload situation and are fully behind your goals.
Stress management techniques
Good mental health is imperative when you're juggling work and school. Integrating relaxation techniques and mindfulness practices into your daily life can help you stay focused and keep calm.
Yoga can be beneficial as it offers both physical and mental relaxation techniques. These ancient exercises increase your concentration and help you relax and stay in the moment. Regular practice of these techniques can help you navigate complex workloads while staying calm and focused.
Importance of sleep and exercise
Taking care of your mental health includes prioritizing the need for rest and exercise. Dedicating time for nutritious eating, sleep, as well as physical activity is vital in helping you stay energized. You can't stay on track if you're sick or tired.
Set a regular bedtime and stick to it. Add time for exercise to your schedule. Staying healthy physically and mentally will help you meet your academic/professional goals.
Building a support system
Building a reliable support system is key for managing the responsibilities of work and school. Family members, friends or co-workers, can provide motivation while mentors can offer great advice and networking prospects.
Get in contact with those close to you. Connect with fellow students. Join online communities and forums. You'll create a support structure that will greatly contribute to your success.
Key lessons learned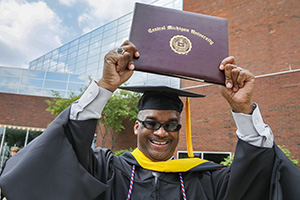 Many of your classmates have managed to keep their work and school lives in harmony. Your professors have help hundreds of other working students graduate. They all have invaluable tips that can be used for your own success.
Asking for help when you need it is vital. Often a question you have or a problem you're facing has been dealt with before. Instead of worrying, get help. You won't know if there's a solution unless you ask.
The rewards of perseverance
The fruits of determination in balancing work and education are numerous: more money, a promotion, a new job. But more than this, many students feel a great sense of achievement and a surge of self-confidence when they graduate.
When you graduate, take the time to look back at all the things you've accomplished. Take pride in how much you've grown, and the friends you've made along the way. You'll see that the results are well worth your time and energy.
Whether you took this on to gain new skills, change jobs, move up in your current profession, or fulfill a lifelong ambition, you've accomplished your goal. Now you can build on that energy and knowledge and know you have what it takes to get the job done.
Online programs at every level
Most students in our online programs at Central Michigan University, are employed. Some finished their bachelor's degrees; others completed their master's or doctoral degrees. At graduation, there is always a tremendous sense of pride in their accomplishments and appreciation of the friendships they made along the way.
At CMU, we encourage all our online students to come to campus for graduation. Many students graduate with spouses and children in the audience. Others celebrate as a group of co-workers who took on the challenge of earning their master's degrees together.
For some it's a chance to meet their classmates and professors face-to-face for the first time. But the overall feeling is always one of well-earned joy and accomplishment.
If you've read this far, you're our kind of student, and we're here to help you every step of the way. We've been doing distance learning for over 50 years. We know how to do it right. Check out our programs and get started today.
Blog:
All Things Higher Ed
posted | Last Modified: | Author:
by University Communications
| Categories:
University Communications