Happy spring break, CMU!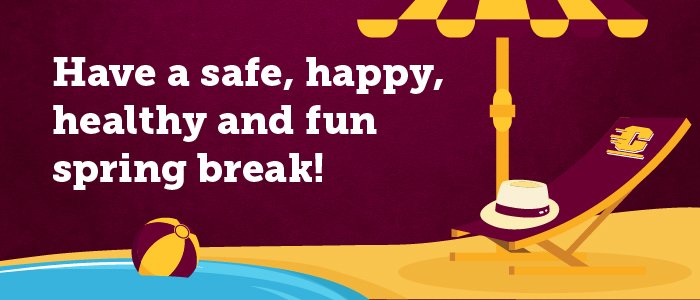 Congratulations – you've made it to spring break! You have worked hard this semester, and you've earned a few days away from classes for a mental health break.
I know many of you are heading home to spend time with friends and families. Some of you will pick up extra hours at work, others may be heading out of town for vacation. Dozens of our students will be rolling up their sleeves to serve communities around the nation on an Alternative Break. Wherever your adventure takes you, please remember that you are still an ambassador for CMU's mission, vision and values. Please exercise good judgment and treat others with kindness, compassion and respect.
I hope you also choose to vote!
No matter how you choose to spend the break, please do so safely. Pursue your passions, have an adventure and try new things — and while you're at it, take care of yourself! I want you to return from spring break healthy, refreshed and ready to work hard.
Now, take a moment to savor these facts: For one whole week, there are no classes, no exams and no homework assignments due. Enjoy this time off. I'll be fired up to welcome you back March 16!
Be well,
Bob Davies
P.S. — The coronavirus situation is changing rapidly. I encourage you to stay informed and up to date on the latest developments. Please visit CMU's coronavirus updates webpage and take advantage of the great information from the
Centers for Disease Control and Prevention
. While there are no known cases of the coronavirus at CMU or in the state of Michigan, it is a good idea to take precautions to keep yourself healthy and safe.
Blog:
Presidential Perspectives
posted | Last Modified: | Author:
by by Bob Davies, CMU President
| Categories:
President's Office