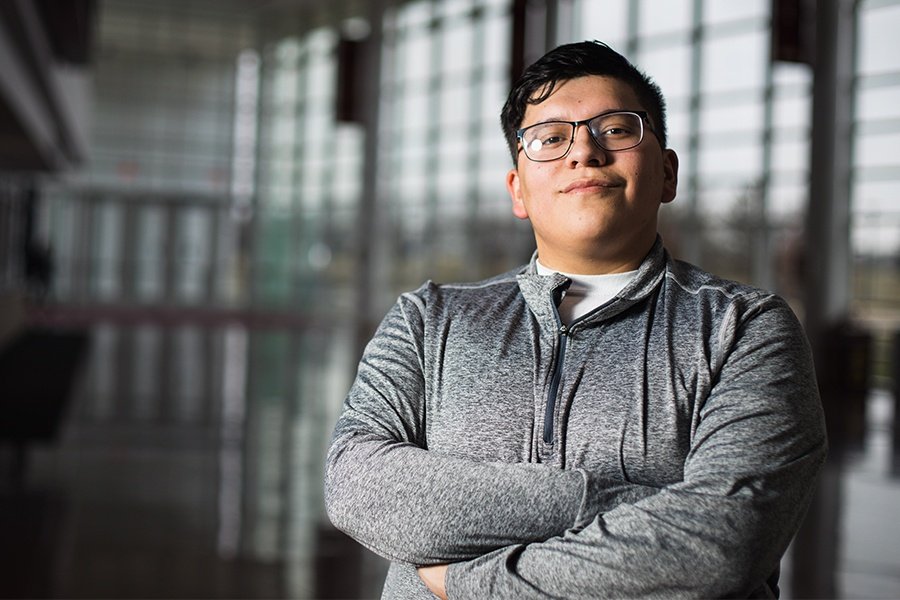 Fired up and Focused
Eric Segovia
Student
Biography
Eric Segovia decided in middle school he would be the first in his family to go to college. He also knew it wasn't going to be easy.
Growing up, he said he lacked social confidence and it spilled over into his schoolwork, something he struggled with into high school.

One day, he decided he was better than that.

"All that time I felt lost," he said. "I decided I wanted to go to college, and I wanted to do something more."

Eric was accepted into a health program at his high school's career center. Soon he was one of just 24 students out of 60 who applied to be offered a rotation at a local hospital.

It was where he got his first real taste of hands-on learning, studying everything from dental hygiene to surgery. He was hooked.

So as he began his college search, he knew exactly what he was looking for. As a first-generation student, he wanted the support to navigate college. He also wanted to dig in and learn in the field.

At CMU, he found both.

"As a first-gen, it was tough, but nothing was going to get in the way of me achieving my dreams," he said. "I didn't think I'd make it to college, but CMU is always there for me."
He also was able to learn up close.

"I'm doing all of this hands-on work early on," he said. "As a freshman, in my biology class I'm growing and studying bacteria and dissecting and viewing skin cells of worms, butterflies, ants and moss, all firsthand.

"It's giving us that upper hand. When we're juniors and seniors looking for jobs, we've already been there and done that."

He is unsure exactly where his path will take him, but he knows it's in health, and he knows CMU will get him there.

"I look at the future, and all I can say is I'm here now. I'm motivated, and I'm doing it," he said. "I just keep telling myself to Fire Up!"
Fast Facts
Eric is on the executive board for Calkins Hall.
He plays on the CMU club volleyball team.
He has travelled to Hawaii, New York City, California, Florida, Mexico and Colorado.
Fun Fact
Eric plans to attend graduate school after earning his bachelor's degree.
Hometown
Coldwater, Michigan
Expected Graduation
Fall 2022
I look at the future, and all I can say is I'm here now. I'm motivated, and I'm doing it.