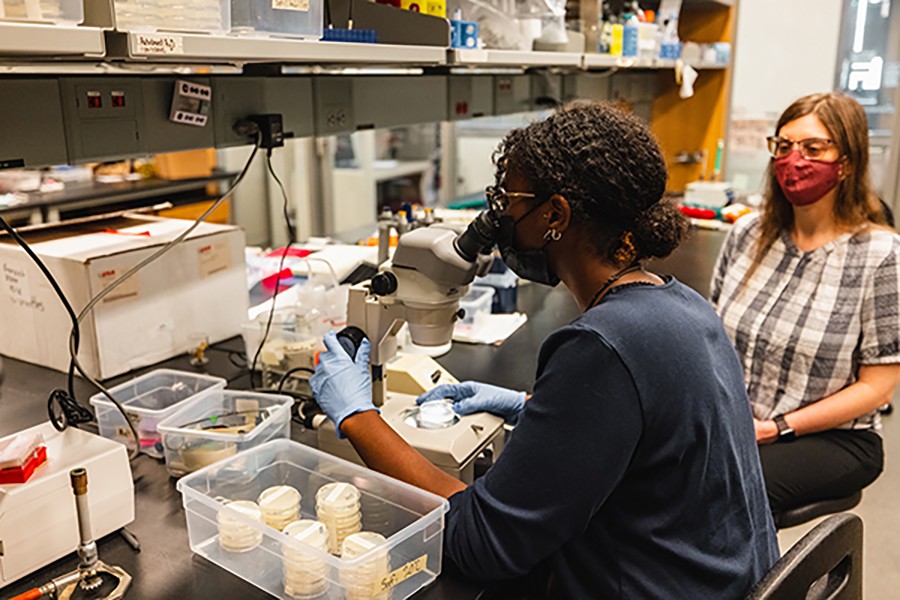 Fired up and Focused
Safiyah Teran-Sari Ali
Student Researcher
Biography
​After beginning her studies at CMU, Safiyah Ali received an email from the director of the McNair Scholar program encouraging new students to apply. The program sounded interesting, so she looked it up and discovered that it helps first-generation, low-income and underrepresented students who are interested in a career that requires a Ph.D.
After she read it, Safi says, she "kept seeing McNair, McNair, McNair all over campus. I thought, 'this is a sign.'"
She applied, was accepted and is glad that she opened that email.
"It's one of the best things that ever happened to me," Safi said. "I've been very grateful. I didn't know that much about grad school. I didn't know it could be a possibility for a person like me. I didn't see a lot of stories about women in the STEM community. I never thought I could end up going into a graduate program and getting a Ph.D. where I can do my own research."
It's been a long journey for Safi to realize there was a future for her in research biology. She's always been interested in science and loves animals. Her first thought was to become a veterinarian. But then, in high school in Redford, Michigan, she read a book called "Killer Germs."
"It talked about all these different types of viruses and diseases and how they affect our cells," Safi said. "And it specifically talked about how these diseases affect animals and how they spread to being pathogenic towards humans, too. And that led to me being interested in genetics and the genetics behind diseases.
"But what has piqued my interest even more is being at CMU, taking biology classes. I remember going into the Biosciences Building in my freshman year and going up to the third floor, and I didn't know what those labs were for. I wanted to know what they were doing in there, and now I do research in those same labs."
Over the past summer with the help of her mentor, Dr. Xantha Karp, Safi designed her own research project on the genetics involved in the developmental stages of a nematode known as C. elegans. She'll present her findings at this year's McNair Symposium.
"I know some students get nervous when presenting their own research, but for me it's like, I can't believe this is happening," said Safi. "It puts into perspective what graduate school will be like, as well."
Her parents will be rooting for her, too. At first, they weren't too sure what Safi would do with a degree in biology. But when she explained all the things she has been doing in the McNair program, her mother's response was, "Oh, wow, that's amazing."
Safi said, "My mother just really wanted me to go to college. She wanted me to explore what else is out there. I really thank her for pushing me to get an education and become passionate about what my future would look like."
Her mother had wanted Safi to apply to the University of Michigan. But Safi had other ideas.
"U of M is a good school," Safi said, "but when I came up here to Central, it felt like I really could be successful here. Just the overall environment here felt welcoming, and I believe that is what really brought me here."
Now, as she prepares her research for presentation and starts applying to graduate schools, Safi wants other high school students to know that CMU is a great place to find your passion and start working toward your own goals.
"If you want to be part of a very good community of students and faculty members who are going to be here for you and help you, then CMU is the place for you to be. The community here is built so you can encourage students from different backgrounds no matter their gender, race, ethnicity or sexuality. We all encourage each other to be successful here. I hope to inspire future McNair Scholars, too. Just be an example and keep the cycle going."
Hometown
Redford, Michigan
College
College of Science and Engineering
The community here is built so you can encourage students from different background no matter their gender, race, ethnicity, or sexuality. We all encourage each other to be successful here.