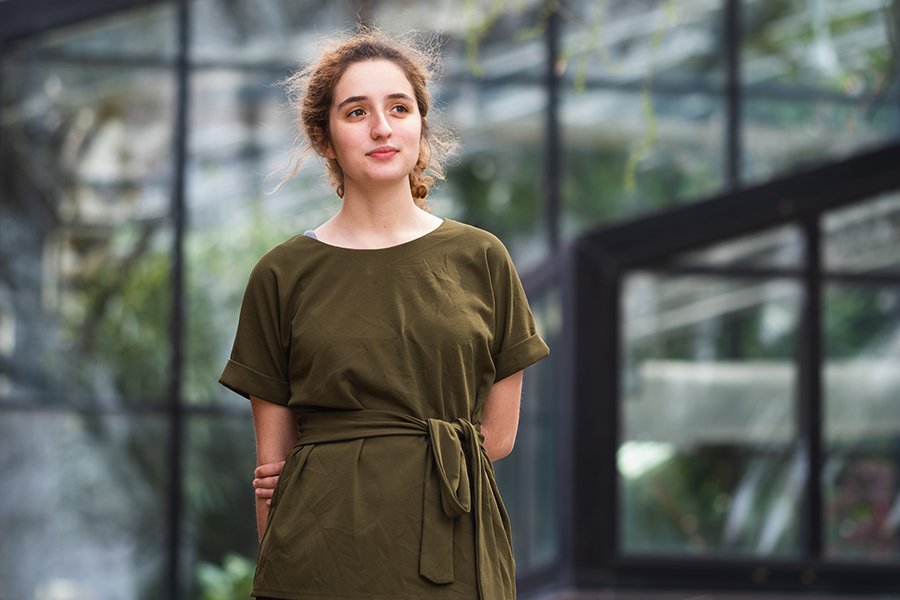 Fired up and Focused
Teresa Homsi
Sustainability Coordinator and Advocate
Biography
She first visited campus as a high school senior on a cold November day, but Texan Teresa Homsi quickly learned to fire up as a CMU Chippewa.
As a freshman, Teresa started on a path of involvement that led to her current role as a leading advocate for sustainability at CMU.
She hired into Central Michigan Life as a reporter, signed up for CMU's chapter of the Society of Professional Journalists, joined the registered student organization Central Votes and became its Student Government Association representative.
At every turn, she looked for ways to make a difference. No one — certainly not the little voice inside — told her she couldn't.
"Being young, you can be a little more naive and not jaded," she said. "You don't feel like you have to settle for the way things are.
"You think, 'If something should happen, then it can happen.'"
She soon proved it.
In 2018, reporting on a student strike for climate change awareness led to her talking with the university's Office for Institutional Diversity, Equity and Inclusion. It was there she found a new calling to work for a sustainable future.
The office hired her and fellow student Eric Urbaniak in 2019 to help assess CMU for the Sustainability Tracking, Assessment and Rating System, which colleges and universities use to measure and report on sustainability and identify areas for improvement.
They grew that effort into a new OIDEI platform called Central Sustainability, which launched in summer 2020 with Teresa and Eric leading the way to present information and pursue efforts that are environmentally and socially conscious. Already they've teamed up for projects with multiple university and community groups, including Residence Life and the Saginaw Chippewa Indian Tribe.
"We learn about environmental stakeholders in class, but with Central Sustainability I actually get to interact with stakeholders," Teresa said. "That's like something you would do with an environmental degree, like a master's, but we're able to do it now as undergraduates."
Practical experience is only one benefit of Teresa's CMU education: She also earned a place in the Honors Program and a study abroad opportunity.
Although pandemic travel restrictions cut short her study abroad last spring in Ecuador and the Galápagos Islands, she credits CMU for opening the doors to a once-in-a-lifetime experience without having to worry about the expense.
"I don't think that's something I would have been able to do if I'd gone to a different university," she said.
After her planned graduation in May 2022, Teresa is considering a master's degree in sustainability and environmental policy. Although she has yet to pin down career goals, experience has shown she'll be ready to make a difference for the better.
"Life's not fair," she said, "but it doesn't need to stay unfair."
Major
Environmental Studies; Journalism
College
College of Science and Engineering
Expected Graduation
May 2022
Life's not fair, but it doesn't need to stay unfair.